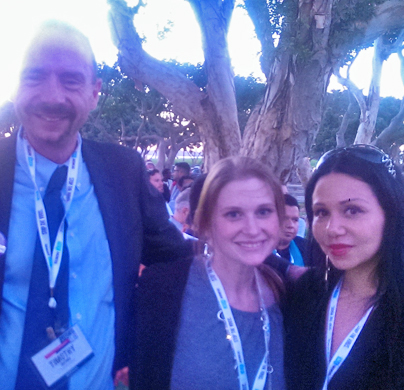 I was able to attend the United States Conference on AIDS (USCA) in San Diego, held October 2-5, 2014. This conference had over 2,000 attendees, many of whom worked in the HIV community. The sessions varied widely, including housing, criminalization, retention to care, and organization management. I primarily attended sessions related to science and research to feed my interest in treatment advocacy.
I had the privilege of hearing some amazing people speak, including some very well-known advocates such as Laverne Cox (from Orange is the New Black) and Mondo Guerra (from Project Runway). I also had the honor of hearing from Timothy Brown (the Berlin patient) at a session!
One thing I learned from this conference is just how far we've come in treatment. In 1987, The FDA approved the first antiretroviral drug (AZT). Today there are over 30 drugs available for treatment. To think back in 1996, a person living with HIV took on average 18-24 pills per day. Yet today, there are multiple one-a-day regimens! The drugs today are not only more convenient, but also less toxic and more effective at suppressing the viral replication. 
In resource rich countries, such as the U.S., we have a near normal life expectancy! People living with HIV are no longer dying from AIDS complications, but rather from co-morbidities, such as liver failure, diabetes and cardiovascular disease.
By the year 2020, it is expected that 70% of people living with HIV will be age 50 or older. I remember when I was diagnosed, questioning how long I had to live. My perception was that this was a death sentence. But I now rejoice knowing that I can live as I had envisioned…sharing milestones with my son that I once thought I would never enjoy. While I'm eager for a cure, I'm also grateful for the many advances in treatment!