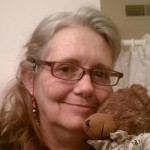 It's been a long time since you have heard from this "Girl Like Me," but I'm still here, still being an avid activist, refusing to let adversity keep me down. And dear friends, if there is ONE thing I ever encourage you to "get" from my story is NEVER GIVE UP, period. That allows negativity a victory…and we shall not do that!
So how does an almost 60 year old woman living with AIDS feel "like a virgin"?
Now as you perhaps watch this video for the first time in years…think about being a heterosexual, caucasian, retired Registered Nurse…living in North Carolina, a Bible Belt state, where if you listen to who's at risk of any STI much less HIV…becoming HIV infected at age 48 in 2002, progressing to AIDS 2008…
Being outspoken, unashamed of living with AIDS.
Madonna, who has at times been vilified as those of us living with HIV/AIDS have. Or like some of her performances, she has shocked audiences, etc…I often feel like that is how we who "live out loud" with our Virus are perceived.
So when I arrived in Washington DC in April 2014 for my first ever AIDS Watch, and I entered the room (and those who know me understand that I never met a stranger), looked around the room to faces I've met in person at a few other HIV events…AIDS Alliance, XIX International AIDS Conference 2012 (I was a 2 week volunteer), Positive Women's Network, Treatment Action Group, 50th Anniversary of the March on Washington…  "Like A Virgin" just started an unending loop in my head. In fact, upon meeting Michael Kaplan (AIDS United), after thanking him profusely for honoring me with one of only a few scholarships, YES, I said to him…that I felt "Like a Virgin." He had this rather stunned look on his face, but upon explaining my rationale he had an "I get it" moment.
My point being…NEVER ever allow anyone to make you feel less than. This room full of activists, including the newly appointed director of the Office on National AIDS Policy, Mr Douglas Brooks, an absolutely wonderful and approachable person, to Positive Women's Network members Naina Devi, Barb Cardell, Penny DeNoble, Waheedah Shabazz, Michael Raynor, Reed Vreeland, Larry Frampton, Roy Hayes, Pat Wilks Kelly, Eric Evans…on and on and on…all part of this universe we call home.  No one better than another, each of us advocating as we are comfortable in doing.
I've been told, "I can't be like you!" Please don't. Be You. Hold your head up, Never be ashamed.
This is it for now as I prepare to board a plane (thanks again to scholarship) to the first ever "HIV is Not a Crime" Conference!  What would you like to bet I start hearing "Like a Virgin" again!