The 24th biennial International AIDS Conference took place from the end of July into the beginning of August this year, and I was happy to have been able to attend. The first Montréal IAS (International AIDS Society) meeting was in 1989; since then, 79 million cumulative cases of HIV have been reported. This number represents an unimaginable number of lives lost or changed, and only reinforces the need for the continued exchange of information at conferences such as these.
This was my first international in-person conference and, incidentally, my first time out of the country as well. There was so much to try to absorb! I have to say that for me, one of the biggest takeaways was being renewed in hope and reminded that someone is always fighting for people living with HIV. With thousands of researchers, scientists, medical providers, bio-medical providers, advocates, and volunteers in attendance both in person and virtually, know that there are those who want you to thrive and live well.
The theme this year centered on "Reengage and Follow the Science" (italics are mine), and was backed up by four objectives:
Presenting evidence
Learning from COVID-19 and HIV
Addressing evidence and implementation gaps
Supporting the next generation
Following the science seems simple, but with misinformation and disinformation being at an all-time high, it was a good call to reinforce the need to continue to support the processes and things that have carried us so far throughout the years.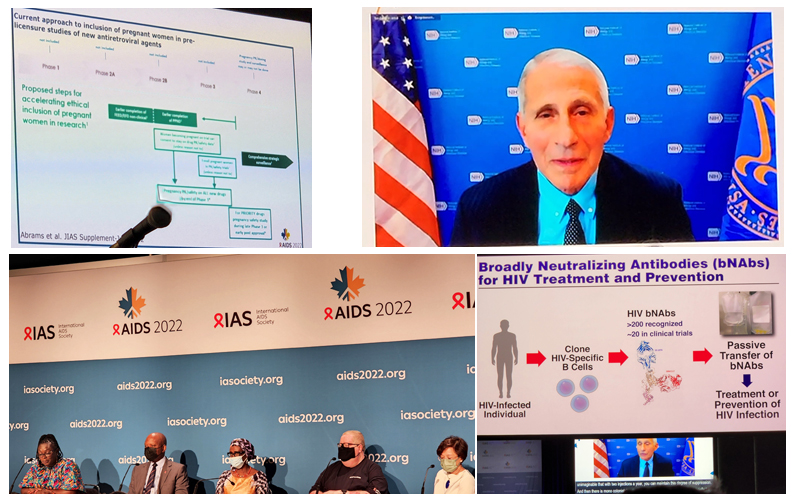 There was a dizzying amount of information available at this conference. Sessions on the ways COVID-19 impacted work and progress in HIV and the innovative ways people did HIV outreach during the height of the pandemic to reach people for testing and help with adherence. Evidence based research on the continuing work towards a cure. An interesting look at HIV reservoirs in the body, and how science can measure them and how they work. Race, social determinants of health, and inequities were discussed in frank ways that much of this country is trying to avoid. The Well Project took part in a session about breast/chestfeeding and informed choices for birthing parents and hosted a group session in the Positive Lounge, which was a space dedicated to persons living with HIV. Whether a person was an advocate, a medical provider, or a community leader, there was a session for everyone.
I would be remiss if I did not note the conference wasn't without some conflict. Due to issues with visa approvals from the Canadian government, there were an untold number of delegates and participants who could not attend the conference. The denials and slow approvals of visa applications persisted right up until the day before the conference started. Winnie Byanyima, executive director of UNAIDS, tweeted that she was almost denied boarding a plane in transit to the event due to document scrutiny. Several of the sessions had to be changed from in-person panels to a hybrid of in-person and virtual due to visa denials or delays. If not for the lessons learned and the ability to pivot to technology made common during the height of the COVID-19 pandemic, many of these sessions would have been canceled.
The opening plenary meeting was interrupted by a protest in part related to the visa denials and for the inequalities facing people living with HIV. Demands included a rallying cry to do more to stop AIDS deaths from opportunistic infections endemic to lower income countries, hosting international conferences in more accessible medium- or low-income countries, and closing the gaps in equal care across the spectrum in both access to and cost for HIV ministration.
Conferences are a learning experience. Learning how HIV affects people everywhere. Learning about the virus itself. You learn about people and their resiliencies, about treatments and modalities. You also learn that there is still work to be done in this HIV epidemic – and that there are people invested in the work. There is relief and pride in that knowledge.