Dear person living with or affected by HIV and AIDS,

It has been while and I would like to check on how you have been doing. It says that life is like a disco ball, no matter how the music changes, you just keep on dancing. Life during the Corona era has taught us many things, and we keep on adjusting the situation from time to time. During my holidays in Berlin where I visited many places with my parents in law, my kids and husband, we saw many beautiful places, some of them bring back some sad memories. But is OK we call it "LIFE".
I was impressed with how people in Berlin quickly adjust to wearing facemasks everywhere in their lives. While I was used to wearing a facemask in public transport, I had to train my brain immediately to use a facemask in supermarkets, stores or when you leave your seat in restaurants. It was a matter of discipline and people obey the rules.
I try to find beauty on every occasion. So when walking in streets or alleyways I would look around and find a lot of graffiti. Some were inspiring, like seeing a beautiful picture of Anne Frank or Obama. There was so much art on the streets of Berlin and they all respected each other's space on the walls. It is very respectful and makes every artist equal!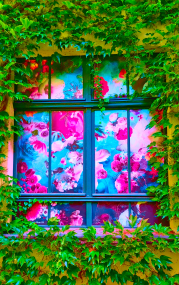 I visited the Berlin wall for the third time now and every time I always find very beautiful new paintings. It's an amazing experience and kind of helps me to relax by looking at all those graffiti pieces of art. In the neighbourhood close to my hotel, while on a small walk, I found a beautiful living painting. I call it "The living beauty flowers". This one really inspired me as, to me, beauty is defined as a combination of different qualities such as shape, colour, and integration with the surrounding. But, beauty is more than what you see. It is not just about how you look on the outside, it is even more about who you are on the inside. "The living beauty flowers" to me symbolises this inner beauty.
My dear person living with or affected by HIV and AIDS, to me you are all my living beauty flowers . Don't let anyone tell you otherwise. May these beautiful flowers inspire you to be the beautiful person inside.
Peace,
Eliane
This blog was originally posted on hivstigmafighter.