As I'm sure many of you know by now that I live with severe depression and anxiety along with ADHD, OCD, and PTSD (damn, that's a lot of alphabet, lol), I can get down pretty easily and sink into the thoughts and feelings in my head. I get overwhelmed easily and then I shut down. It has been extremely difficult to find ways that help me cope. I've self-medicated for years with marijuana; doesn't really help, but a little buzz doesn't hurt, lol. I've gone to a good therapist who helps a lot, and I take several medications, but still I struggle with my mental health. I've tried stepping out of myself and trying all kinds of different things, but nothing seems to work. But I've recently found something that has helped me a lot — leather.
Now to be sure, there are many pleasures to be found in leather, but I've found my own - that unfortunately doesn't involve sex, lol, but is so relaxing and calming. I started making shoulder bags with deer leather.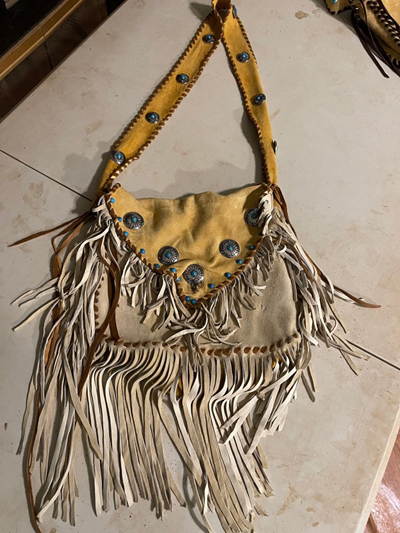 It started with a flute. For the past year I've been playing native flutes, and I absolutely love them, another something I do to center myself. I wanted to buy a deer skin flute bag that looked traditionally made but perhaps modernized a bit. I couldn't find anything like what I wanted and what I did find that I liked was over $300, so I decided to order some leather and try to make my own. I did a little research and looked at pictures and thought it out and ended up making an amazing flute bag.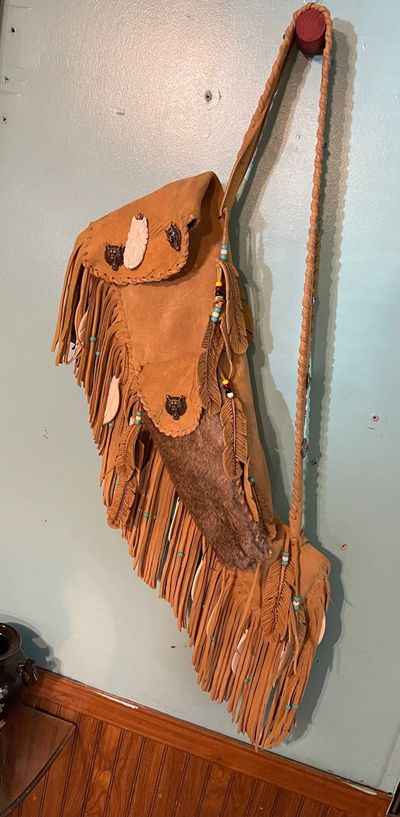 And in the process found something that was so relaxing to do and it made me so proud to accomplish. Out of the scraps I made a shoulder bag. When I showed it to my daughters, they both said "you could sell that." And that got me thinking about that. I bought more leather and made more bags and decorated them. So far I've sold five bags.
The other day I created a Facebook page to display my bags for sale. I called it 7 Feathers Leather by Katie. 7 is a special number to me; there are 7 clans of the Cherokee Nation, 7 sacred teachings, 7 directions, and I just really like the number, lol. Feathers are also sacred and hold power in native cultures. And I thought 7 feathers leather just sounded good together and no one else was using it, lol.
I don't know if I'll make many sales or not. I hope so, but it's really not about money. If I can make sales then I can buy more leather to make more. For me, it's about what I really get out of it, a calmness and distraction from my head. I don't want to make it a job, or something that feels like work, because I want it to stay relaxing and therapeutic. It helps me and I don't want to change that. I'm sure the time will come when I no longer find it calming. Nothing seems to last for very long for whatever reasons. I guess that's why I have so many hobbies, lol, but right now it's been amazing.
I'm sure we all struggle with stress and anxiety and it's really important to find ways of dealing with it. We're all different and what works for me might not work for you, so we all have to find our own methods of self care. This is just my latest method that's been working for me. I hope you have something that works for you too.