Dear friends,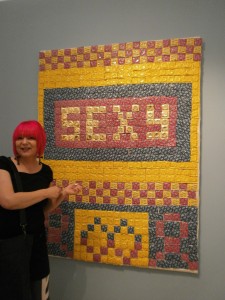 Today we sent out an
e-newsletter
for Valentine's Day that was in part inspired by stories we read on 
A Girl Like Me
, as well as comments we hear from women living with HIV around the world about the lack of information focusing on sexuality. Below is the introduction from the newsletter along with a link to our new article "Getting Your Sexy On!". We hope you enjoy reading it and hope your day is filled with much self-love and fun! To read about blogger Mandy Webb's art piece "Sexy Quilt" shown here (made out of over 700 out-of-date condoms), please
click here
.
On this annual day that is dedicated to celebrating love, we thought it important to remember how important self-love is. Women especially can get so wrapped up in caring for others that we forget to take care of ourselves. So this Valentine's Day, try to take a break from all of your many obligations and spend a little time thinking about how to Get your Sexy On! Although it is totally normal to struggle with intimacy after being diagnosed -it is important to remember it IS possible to live a satisfying sexual life after HIV. Read tips on boosting your sex-esteem, rediscovering pleasure, and how to navigate around issues related to HIV and intimacy. Take some time this Valentine's Day to treat yourself to a little sexy time!
xoxo