Touchdown… I finally land in Huntsville International Airport at 10:00 pm. I felt like it was two in the morning and I walked all the way to Huntsville from Orlando on foot. I was exhausted, but what a week it had been.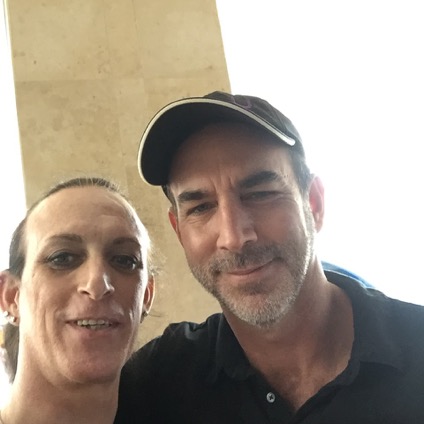 As I walked into the hotel upon my arrival I was awed by its size. I felt lost as I scanned the room for a familiar face and it didn't take long for one to emerge. Bruce Richman came up to me and greeted me with a hug and I felt instantly at ease knowing that I wasn't alone. He showed me around the hotel where everything would be, helped me to get registered for the conference, then took me with him to a meeting of the top leaders in HIV advocacy discussing their views about a recently drafted statement on the current state of HIV.
I felt privileged to be in the room listening to these titans and inspired by their passion, passion so fierce that I couldn't help but wonder why have we not yet ended this epidemic, what could be opposing us so strongly that could withstand such passion and determination from powerful organizations such as we have? But that's for another blog. After the meeting I met some awesome people like Timothy Ray Brown (the only man in the world to ever be cured of AIDS), and Kevin Maloney (the founder of Rise Up To HIV), along with many other HIV advocates who I was so honored to meet.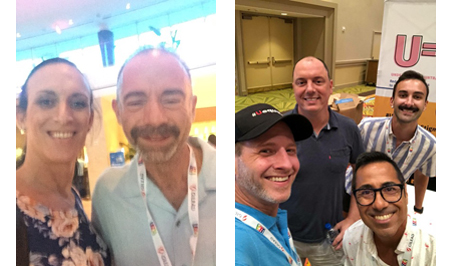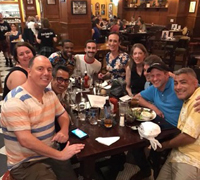 Then I went to my room to rest, but my rest didn't last very long. My roommates decided to go get something to eat and of course I wasn't going to be left behind; I was enjoying their company and didn't want to miss a thing. We went to a nice little Irish pub where we ran into other friends who joined us. We enjoyed good food and great fellowship.
Afterwards my roommates and I decided to visit the Pulse Memorial while in Orlando. It was so powerful and emotional to stand on the ground and see the building where 49 innocent people were brutally murdered. The building was surrounded with touching banners while music played from the inside. Tears welled up in my eyes as I read the names of the fallen. It was such a moving experience and I was so glad I was able to be there and offer my respect. This was the end of my first day.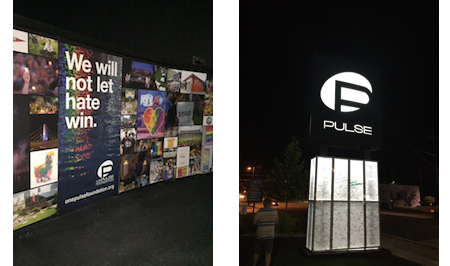 The following day I was up early and ready for the conference. First I walked around the exhibit hall where there were various organizations at booths talking about their work and services. Some were selling items to raise funds for their advocacy while others gave away free items to draw you into conversation.
I loved seeing all the wonderful work being done for the HIV community. Then I came across the booth for The Well Project and I decided to hang out there with Krista Martel and Maria Mejia for a while. I was honored to work the booth with these amazing women, telling people about who we are and what we do, the services we offer and the audience we reach. I enjoyed it so much that I stayed there for most of the day with Kellee Terrell, Wanona Thomas, Masonia Traylor and Gina Brown. I felt so proud to be part of this wonderful organization and tell others about us.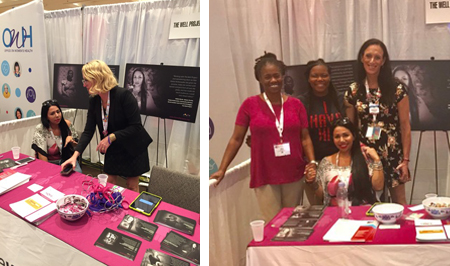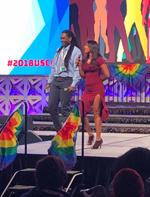 The plenary to close the day was awesome, a sea of people with 4,000 conference participants, I was in awe. The stage lineup was powerful with various speakers representing their communities and discussing the needs of their people, from women living with HIV to the Native American community. Then there was a powerful representation of the transgender community followed by a statement from Larry Kramer and a powerful speech from the young David Hogg who survived the Marjorie Stoneman Douglas High School shooting talking about gun violence on the transgender community. It was all very moving.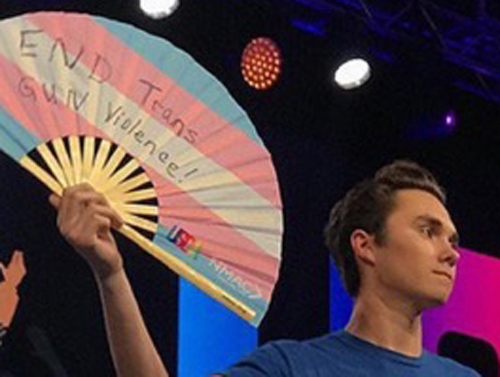 That evening I had dinner with my family from The Well Project. We went to a Puerto Rican restaurant. I had never been to a Puerto Rican restaurant before so it was a new experience for me, and one that I really enjoyed, but the true highlight was sharing space with my sisters and having a wonderful time in their presence. We shared laughs and personal stories, bonding together in a beautifully deeper way than before. This was the end of day two.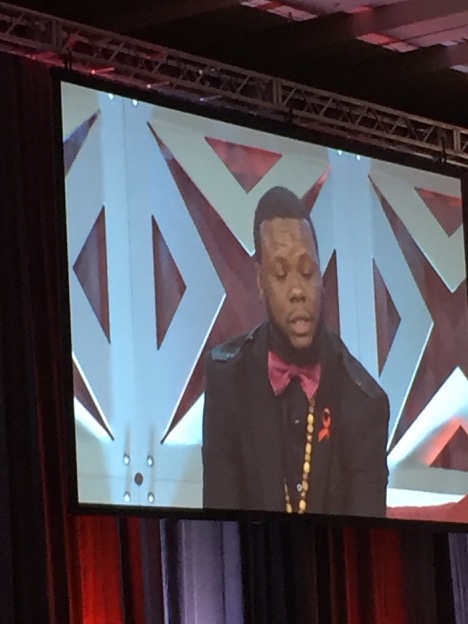 On the third day I attended the lunch plenary which had another great transgender representation, a panel discussion made up of Achim Howard, Maria Roman, Tori Cooper, and Kellen Baker, moderated by Diana Feliz Oliva. They discussed the realities of being transgender in an unwelcoming discriminatory, and dangerous world. It was powerful and moved me to tears because I could personally relate to most of what they said.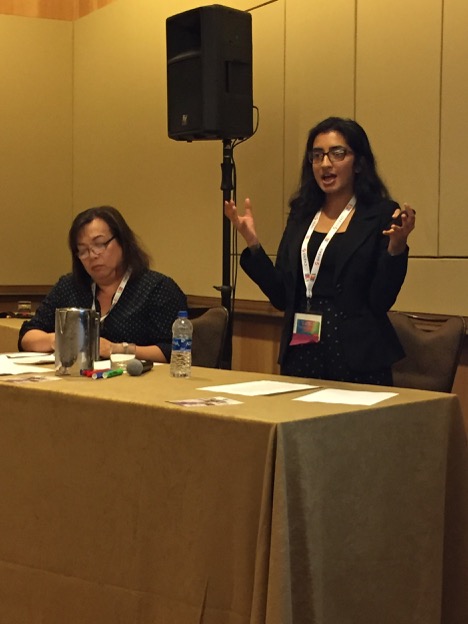 Afterwards I attended workshops. I chose two about storytelling, the first had a panel of presenters who revealed a little about themselves. Their words were powerful and relatable. I particularly enjoyed listening to Cynthia Rogers, a fellow Alabamian who had no fear at all saying exactly what she thought or how she felt, and I found that admirable; we had a great conversation afterwards. The second workshop was more specifically about transgender storytelling. I found it extremely useful and the presenter had such an energetic presence that she held your attention every moment, I enjoyed it very much.
Afterwards I went to my room for a little while before going to dinner with my U=U family (the Prevention Access Campaign). We ate, had a few drinks, took selfies, and enjoyed each other's company immensely. This was the end of my third day.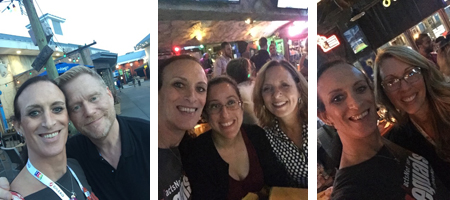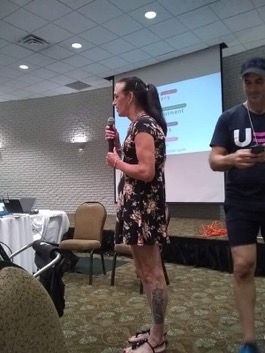 The next day was highly anticipated for me. I was scheduled to speak at a U=U workshop that morning. I was nervous, as I'm more of a writer than a speaker but I guess I got through it ok. I was so honored to be asked to do so that my fears disappeared when I was handed the microphone. It was my first time ever speaking and I was rather proud, I didn't stutter, pass out, or anything, lol.
Afterwards I was interviewed by Jennifer Vaughan for her YouTube blog, my second speaking engagement, lol. We talked about the realities of being transgender in a discriminatory and dangerous world. I have such great love and respect for Jennifer so I was extremely happy to do this. I then visited the transgender lounge and enjoyed the company of my community before attending another amazing U=U workshop.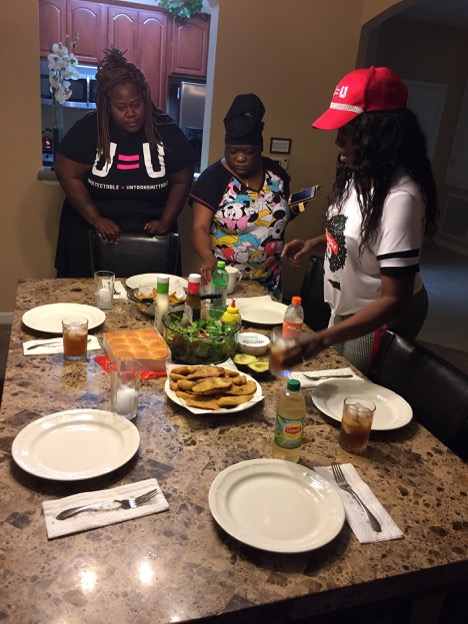 Later that evening I partook of a delicious home cooked meal with my roommates prepared by the loving hands of Stacy Jennings. It was a wonderful final meal with my sisters before leaving the next day for home.
The final day of the conference very little was scheduled, there was only one workshop planned before the closing plenary. It went so fast and before I knew it I was back at the airport with Bruce Richman and Davina Conner waiting for our flights.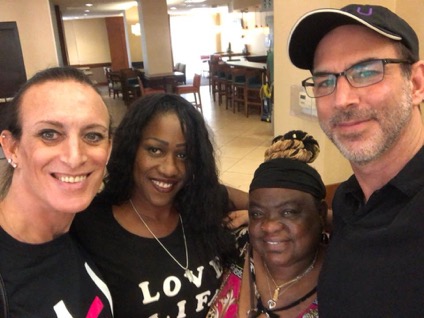 I know I've already written a lot, but there's so much that I've left out, like the people I met in the hallways, forming new friendships and alliances, the USCA staff that was so helpful, I never saw a single unfriendly face. Before I left for the conference I wrote about community, but I think a better word would be family. I think HIV advocates truly are family, supporting one another, nurturing and inspiring one another, and yes, loving one another. I never once felt alone or lost, unwelcome or unloved. I love these conferences, these gatherings of family…