I had anticipated writing this blog much sooner, but the way my body is set up, I apparently required some much needed rest. I recently spent nine days and eight nights along the Florida Panhandle coastline, what some call the Redneck Riviera. I simply thought the white sandy beach was beautiful, and I had never seen a body of water that cast so many different shades of blue. I had returned to Ft. Walton Beach, Florida for the second SPEAK UP! Summit.
I flew into the resort earlier in the week because Positively Trans held our two-day NAB meeting. I was introduced to new NAB members and was afforded an opportunity outside of the board room to actually converse with new members and catch up with current members. We, who come from so many various backgrounds, were able to appreciate each other's contributions to the movement. After the NAB meeting, we were responsible for a pre-conference, The Women of Trans Experience Institute. I have to say, it would not have come together without the leadership of Octavia Yazmine Lewis, MPA and Arianna Lint. These two ladies worked collectively for months putting together the institute. I stepped in where I could or as I was needed. Thank you ladies for your leadership and your service to our community.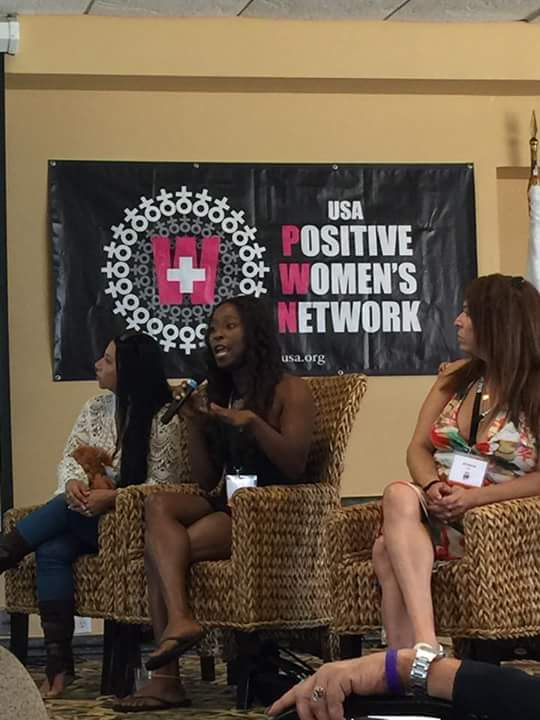 I was so excited to meet my trans sisters who came for the institute and the summit. PWN-USA reserved 33 spots for trans women to attend both and for that I am so grateful. The very first summit had three trans women in attendance. The ladies pulled up and from the moment we said hello, we began to bond. The amount of trans brilliance in the room was at times too much to conceive. These ladies brought such passion to the room. They were attentive, engaging and so full of knowledge that they shared with everyone. This was the reason we were brought together. I couldn't have wished for it to have been any better than it was. There were some absences that were definitely felt. We lost a NAB member, Channing-Celeste Wayne, to cancer and a potential member, Sharmus Outlaw, also to cancer. We began the institute with a memorial dedicated in their honor. I can't even begin to describe what happened next. I just know that it was the most beautiful moment where we stood together and supported each other, we poured into each other, offered healing into the space and saw each other as not only colleagues, but as sisters. 
I walked away from that moment with so much joy in my spirit and it gave me the strength I needed to get through the summit as well as the positive living conference. I do not assert that being at the conference and summit was without its own challenges. Oh yes, there were conflicts, albeit intergenerational or the false cisgender/transgender dichotomy. There is work enough for all of us to do our part. We cannot talk about long term survivors of HIV without also acknowledging those youth who contracted HIV perinatally. Our experiences with the virus differ and neither of us has the right to negate one's lived experience with it. Each voice is unique and needed in the fight to eradicate HIV/AIDS. All I can do is offer my sincerest apologies to all who left Ft. Walton Beach feeling unfulfilled. A lot was expected of me and a lot of me was what I gave. I wanted to protect all of my trans family, but I knew that I could not do it alone. I spoke out against the violence some of us felt while in the spaces. We stood together and denounced the unfair treatment, the slanderous words and all manners of prejudice we faced. Our allies came to our aid. I was empowered to stand before the 400 plus attendees and boldly claim, #NOT1MORE, #TRANSLIVESMATTER, #TRANSPEOPLEBELONGHERE, and to #STANDUPFIGHTBACK.