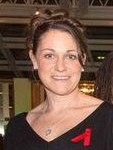 'Read all about it...' plays on the radio 'How old was she, the girl that sang that?'  my daughter asks.  'I'm not sure 23...24'  my reply was not about by Emieli Sande, but a beautiful, brave young woman that stood alone when JOYFUL NOISE first sang at the NAZ awards ceremony a few weeks before.  What a night, we rocked and we roared, how I love all that the choir for PLWHIV stands and sings for.
'She has lived with HIV all her life,' I continue carefully, grateful that I have a door open to discuss the virus. I disclosed when she was 13, and just last year to my youngest at just 11. They didn't ask many questions, so I didn't share much, just I have it, but you can't tell people.  'I'm ok, and that's why I go to hospital every 6 months to check and why I don't let you use my razors, you're too young to shave your legs anyway!'  We don't talk about it, I believed, because it didn't  come up, but then I joined the choir and things changed.
We laughed as I learned the lyrics and harmonies, it was hilarious! They cooked their own supper, self supervised homework and supported me to attend the sessions, because I always came home with a smile, a good story and a song. Then they watched me perform and absorbed all the information shared that evening, and they were and continue to be educated. Initially they were disappointed that they weren't all 'drag queens',(interesting expectation!). They soon discovered that the choir and  audience were just people, people like them and how proud was I when they cheered for the shout out for any Kenyans in the house!
'Pride in my tribe' was the phrase I used as a description of my experience when Parminder, the founder of the NAZ choir, asked for quotes.  It was empowering, uplifting, inclusive and joyful! For clarity I want to share that 'my tribe' means for me, the group that I feel I belong to, I am white, from Wembley originally, but my children are a golden brown, and my son, my eldest,  was born in Kiambu! My tribe is where I feel free, welcome, home, where I belong...and this is the choir, the most diverse group I have known and that night, the most united!
"So how come I didn't get it, cos you breast fed me?' the conversation continues, "because I tested negative when I was pregnant with you, that's how come I know when I was infected". "So he was unfaithful, it was dad's fault".... " I don't see it like that, I take responsibility. I knew he'd had an affair, he had other std's and I still chose to have unprotected sex after"...silence.. "Forgiveness is how I can heal myself, and you know I haven't always felt that way, but bitterness doesn't help anyone" ...silence.... "So you're still ok right, undetectable?"... "No, I'm detectable now, but the doctor is still happy, and I'm still fine"   .... "mmmm, the best singer was the one with the hat" ......"what it wasn't me?"  ..."No! "  laughter!
When I retold this to my friend, she said that's amazing, and I hadn't really appreciated it at the time, but yes, now  in writing it, I see how we've come so far as a family, to be able to share with such honesty, and to be received with humour. It's onwards and upwards now. No secrets, no stigma, no shame.  Next step is for my youngest to be able to tell her best friend "Last night, I met Gina Yashere, sat next to an Olympian, listened to my mum sing and saw a man in a dress!" I know she wanted to, and I gave her permission....I hope this time next year she won't even feel she needs to ask if its alright to speak about it, she'll know its all ok.
More about Mel: I am Mel and I am well, healthy, happy and living with HIV. 46 years old, 14 years with the virus, and I believe with its help, I have finally grown up! Not quite a wise woman yet, but aware enough to know how far I have come and the journey still to travel.  I live just outside of London, with my 2 daughters and menagerie. I work as a waitress, dream in my allotment and sing in a choir. I wake every morning with gratitude that I can embrace another day, breathe in and out, and smile.  It has not always been this way. I have been angry, depressed, grieved, isolated, abused, judged, self loathing and so full of hate. Now I meditate, I forgive, and I live! I do not take medication, my doctors marvel and support this choice, as my blood counts remain consistently good, but I am going to start to take daily multivitamins in the new year. I look after myself, mentally, spiritually, emotionally and physically. I don't drink…. occasionally I enjoy a good brandy. I don't smoke… a little marijuana on celebrations. I eat healthily…a bit heavy on the chocolate, I exercise regularly…but can also coach potato with reality TV. I enjoy life!
Why Mel would like to be a part of A Girl Like Me:  I want to contribute to AGLM because it will help me gain the strength to fully disclose to all friends and family. When I read others biographies and blogs, I know that I am not alone. I am part of the same picture, that I share something in their stories. The sisterhood and support stops the isolation and I feel it is now time for my inclusion.  Stigma, or the release of fear of being stigmatized, is the final step for me and my HIV. I want to be able to speak up, and so it starts with writing here.