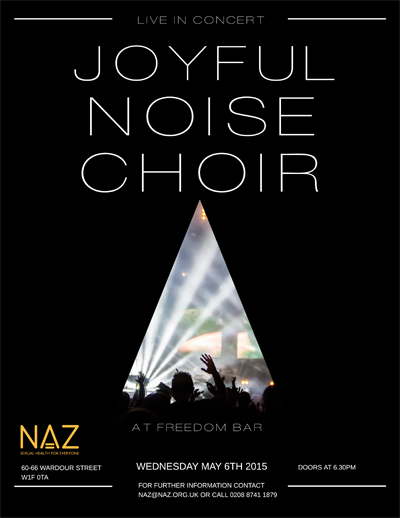 It's been a year since I sang with Joyful Noise, not for want of trying to get to rehearsals or lack of commitment to the choir, just life getting in the way. So when I read the email about friends and family joining I was very excited and planned to go with my daughters. Still, complications meant we only managed one rehearsal together and another with just my youngest. We did enjoy ourselves though, had a great laugh and made the most of it, especially the food! It was also an opportunity to put HIV on the table again - not that it was off limits. An online friend died recently and a young friend diagnosed positive after we encouraged him to test, so there has been shock and sadness and it felt really good to focus on the joy.
So another performance at the Freedom Bar…could I come? I emailed Paul. He greeted me with such a wonderful hug when I returned to rehearsals, I thought it would be OK, but the choir is more professional now. "Hi Mel-Hun, You are TOTALLY welcome," was the reply. "Come in your blue jeans or denim skirt and sing with us."
So I brought a new pair of blue jeans, dusted off my heels and arranged for my daughters to travel up with my boyfriend. I had a slight diva moment in boots when the makeover I had arranged was cancelled. I'd spent all morning straightening my hair and it was raining, it just wasn't going to plan. Then the Bobbi Brown stand came to my rescue, 'glammed' me up, and after a quick train journey and quick change, I was ready to perform.
We had done a great rehearsal, I met some new choir members, reunited with old and my family was on their way, perfect. Then at the door to Freedom, my daughters were refused. In fairness to the bouncer, they didn't look 18, didn't have ID, and it is a bar. So I collected my bags and left. Paul looked crestfallen, but I was looking good (maybe not 18, but reckoned I could get away with 30) and we were in London, so it was gonna be alright! Boyfriend was just happy, I looked good!
"Go, we'll catch the train back by ourselves," my daughters suggested, and so after discussion/apprehension/appreciation and lots of waving at the station we walked back. Then I was on stage being 'Raised up, so I could stand on mountains' and remembering how fantastic it feels to be free, to be me, without judgment. Stigma is a struggle that affects me in subtle ways, so subtle I am still trying to work it all out. Since joining the choir I have found my voice. I am definitely more comfortable talking about my HIV, but still uncomfortable with how people will react.
There's something so accepting about an audience of people who know your status and still want to hear you sing, that it allows me to belt it out. There's something so empowering about standing (and dancing) with other plwhiv, all enjoying the moment, that makes me so strong and proud. And there's something so wonderful about singing and harmonising together that allows my soul to shine. There is no shame in having an HIV+ status. I know that. I can rationalise/discuss/educate, but it is still there, as a subtle undercurrent and occasionally a wave.
I couldn't stand up at my children's local amateur dramatic club and say, "The show is about to start. Please turn off your phones." I sweated, stammered and panicked. Drowned in stigma, not that anyone knew my status, it was just an inexplicable fear that they would if I stood up and took the stage. Yet four years later, here I was, in freedom, strutting my stuff to our reggae mash up. In the front and smiling, completely embracing where I am, who I'm with and why I belong. The show had now started!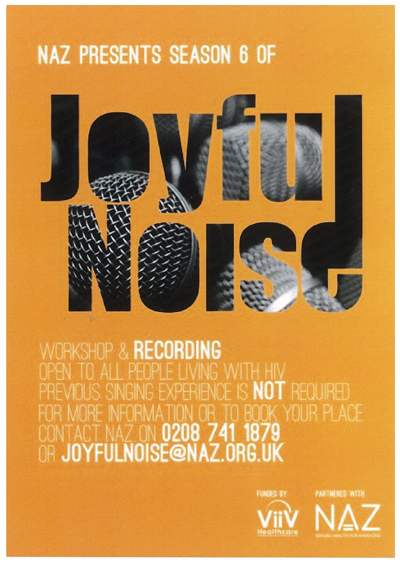 To misquote Bob Marley:
'One good thing about music, when it hits you, you feel no pain'
'One good thing about Joyful Noise is, when it hits you, you feel no shame'
So hit me with season 6.