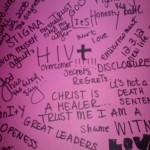 My name is Tabby, and I am currently a resident of Kansas City. I was diagnosed in February 2008.  Two days after my Pastor preached a sermon for a local HIV Awareness Revival Series, I got the anonymous call from KCMO Health Department. Until I received the diagnosis, I was sure HIV would never come up or that I was positive. I honestly thought they were going to tell me I was diabetic. I worked, had a relatively normal life, this could never happen to me. Just like the rape or the domestic abuse or the alcoholism or the promiscuity. NONE OF THIS IS SUPPOSED TO BE IN MY LIFE. But it was, and I was a mess. My boyfriend of 4 years blamed me for him being sick even though he never got tested and his mom who is a minister told me to douche with a bleach water solution. Really, after all I went through with y'all this is how y'all treat me. Wow…Really… Hot "HIV+" Mess was my name for almost 3 years, but GOD. During that time the Lord ministered to me through various people. HE promised me that this was not unto death. That I was worthy. That I was beautiful. Most of all, THAT HE LOVED ME IN SPITE OF ME!!
Why Tabby wants to be a part of A Girl Like Me:
A Girl Like Me is my way to continue to heal because everything I go through is not for or about me. It is for and about the next woman. The one who thinks she deserves this because God does not love her. The one who has not found her voice because she doesn't know who is inside her.