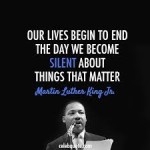 Jesus knows that I've gone through, made, and been forced to go through some changes. I don't mind change because life is full of them. It is overwhelming sometimes. The instability of life dictates most change.
My life is forever changed. I left St. Louis because I knew I was going to die there, not knowing HIV would be the next catalyst to force me to change. Then I had to start disclosing. Huge change. Not for me but for the unheard voices of Christians that were and are positive in the church. Yes, we do exist. No we are not going anywhere. No, I'm not going to hell because of my status. The more I addressed it the more I knew that change was still beyond that. I had to change me. I had to forgive past hurts, I had to get over the self-pity hump, I had to live, and once again I had to change.
Who knew that that decision would bring forth some of the biggest changes in my life. I have struggled for so many years that I had to learn how to fight. I have fought for so many years that I had to learn how to survive. I have survived for the last few years, so that I had to find my voice. I have found my voice and now I have to SPEAK UP.
Gina Brown taught me something in our short time together. She taught me that our voices are stronger when we speak together. Michelle Anderson & Maria Mejia have taught me that we always share our information to help the next person. Wanda Brendle-Moss kept saying it's not about her (me). The Truth Mrs. Linda Scruggs said was so much that I can't even begin to quote her. So many people - Bamby, Lapena, Kamaria, Ms. Tommy, Waheeda, Mo, Vickie Lynn, Tammy, Amy, Kate and last but not least, Krista Martel, who told me to just call, we can HELP YOU. It was a huge lifeline, one I knew I needed but didn't have the voice to Speak Up and ask for. So my next change is to ADVOCATE FOR TABBY using the wealth of resources that are available to me.
ALL THINGS WORK TOGETHER FOR THE GOOD. Romans 8:28