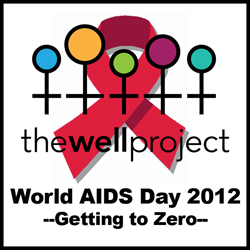 In observance of World AIDS Day 2012, we asked
A Girl Like Me
bloggers, "What is the one thing about HIV that you've learned or experienced this year that has made a difference in your life and would like to share with others?" Here are some of their responses:
Bee2art:
 For me personally, I have more hope.  Hope that one of the drugs I'm taking (Truvada) has been found to help reduce transmission of the disease.  Hope that from everything I've learned in the past six months from my Doctor and research that a cure may be found within fourteen years (my Docs opinion, and she's a research doctor).  And finally hope that stem cell research may help those of us who are infected.  All of this hope has helped me open my heart to the idea that I might feel love again, and trusting that a man could love me in return.  I've been walking around with iron armor, not allowing any man to get close to me for fear of rejection and the fear of transmitting this disease.  Hope is wonderful!
Connie (GoldenLyfe):
This year my confidence in the progress towards eliminating stigma was shaken by the murder of
Cicely Bolden
. The reactions from the general public and news media villainized the  victim instead of viewing her for who she was: a mother, a daughter, a friend, a woman living with HIV. These negative reactions reminded me that the fight for women living with HIV/AIDS is far from over to ensure that our basic human needs are met and our human rights are recognized and respected.
DaSassiDiva:
For me as young person living with HIV has taught me to be resilient in every aspect of my life and also it has helped me weed out people who don't add value into my life, the close circle of friends I have is the people I need in my life. The last thing HIV has taught me is to be strong and never underestimate myself in the world!
Joyaloyo:
 This year I unfortunately affected a friend of mine with the virus. Fortunately, he forgave me though it took a period of emotional healing. I have learnt through this that the fight and the struggle for an HIV free generation might be possible but its really the individuals that are infected that have the power to stop this...and not all the beautiful messages relayed to us. Stigma is still the greatest challenge and its something that is not easily understood. I also realised our loved ones will not hate us because we are infected and the greatest difference it has made in my life is knowing that forgiveness is possible.  We should not fear to disclose because out of adversity may come the most beautiful thing.
Kate:
I learned this year that I am not alone.  For so long, I felt alone, isolated and inconsolable.  But attending the AIDS 2012 Conference brought new light on my situation.  For the first time, I saw people just like myself, with careers, husbands, and children.  I was able to realize that while I don't fit the perceived "stereotype," I can relate to many others who have similar stories.  For the fist time since my diagnosis, nearly 6 years ago, I feel accepted.
MumbaiyyaGal:
"What is the one thing about HIV that you've learned or experienced this year that has made a difference in your life and would like to share with others?" This question made me sit back and go down the memory lane. Stigma.  Discrimination.  Lewd comments.  Rejection.  Hatred.  Anger.   Injustice.  Hurt.  Depression.  I surely have come a long way, battling many negative emotions that threatened to destroy my very well -being, my soul. That's when I realized the beauty of life in the "life" itself.  People who form the integral part of life are completely different from "life" in general. I found that out when I completely absorb myself in my own-- travelling, reading, and through spiritual discourses. It is people who can either make you or destroy you, and based on your reaction to them, you either finish your life or make it more enriching. Thus two things I have learned: Not to let people and emotions affect you. Believe in yourself. Love yourself. You deserve to be the best. Don't expect it out from people to make you feel loved or give you the best unless you yourself first exhibit positive vibes despite the situation/circumstances. Hence, what you give is what you will receive. How you react is what you will get. As you sow, so shall you reap. And this I have learnt through interaction with lot of people, through criticisms, through strangers and friends. The second greatest thing I have learned is to love your own body. Medicines have side-effects but if you respect your body and give yourself a time to maintain it well, in return it will thank you by keeping your skin toned, figure enhanced, stamina and endurance level high. Due to our fast paced life, health and nutrition are the most "ignored" part of our life-style and no, it don't stem due to lack of time but out of laziness. Who want to get up early in the morning? Who want to devout little of their time on physical activities after they return back from work? Also in India, most families have servants to do the household chores and still they don't want to go to the gym because they have beauty appointment one day, kitty party the other day, lunch/dinner outings blah blah blah. I even heard one say "Fitness are for models and actors, people who are in media." Sigh!!! When is one going to be "health-conscious"?? Third: Spirituality and Meditation. What food is for the body, prayer and meditation are for the soul. The more you delve in spirituality, it mold you and shape you and make you evolve as a better human being. Spirituality teaches us all about love, compassion, and how to give. Selflessly. Unconditionally. And meditation helps train your mind. It helps control the negativities, and also strengthen the memory power. Your face benefits the most out of it as it radiates the glow. No wonder why saintly people appear so calm and serene despite the adversaries and harsh realities of life's burden thrust upon them. No wonder they are content with what they have got rather than a greed to want more. Spirituality and meditation helps control all FIVE senses namely mind , sight, smell, taste and hear. So here: body, mind and soul….these are the three things that I have learned, that made a huge difference in my life, which I would have otherwise not. Thus, being HIV positive gave me a new lease of life. A new birth. A new beginning.