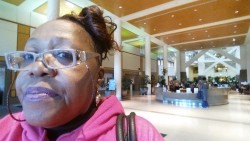 This has been an Exciting month so far... I'm almost bursting at the seams… lol.
 
February 18th I began another HIV/AIDS clinical trial at NIH in which I'll be back every three months for further testing. Anything that I can do to assist researchers find the Cure, eagerly and humbly I volunteer.
On the short ride from the hotel to the facility I met a gentleman with a great spirit (@7am). Briefly we exchanged our reasons for heading to the same location.  He too was HIV positive and not feeling well at all. By the time we reached our destination... with tears in his eyes, he extended his hand to me saying "Thank You for giving us Hope." We both felt satisfied in that moment.
Just know...  Believe me...
There are Great medical advances to be announced in 2016!!! We are on the brink!
We will conquer and Cure HIV/AIDS!!!