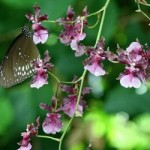 It's probably a good thing I did not go (to AIDS 2012), I am afraid my restraint is wearing thin. I have stepped up my nutritional intake, with Basil oil, and I plan to also get some Oil of Oregano. They kill bacteria and virus.  It can't be said any plainer than that. Why not try it? Turmeric, Curry, Coconut oil, Cardamon....seems to me if the addition of the planet's medicines stimulate the Lymphatic system to purify itself, purge itself, heal itself...well why not use it? So my diet of Onion sandwiches, Garlic Soup, Cabbage dinner, and Curry Cauliflower are holding the virus at bay!!!!  A glass of wine occasionally, rarely a shot of liquor.  I
don't smoke cigarettes,
I rarely eat sweets, and most of the food I eat is cooked at home or raw. It's the same as an anti-cancer diet, a fight-your-diabetes diet, an anti-obesity diet.  It's eating what you know you should for health.  Read labels and avoid chemicals. The chemicals are counter productive to optimum health, and WE WANT OPTIMUM HEALTH. Shame on the powers that control this, because they aren't forthcoming with helpful information. If you want to live without fear, take care of yourself.  I have to remind myself I have this, or I'd be out there looking for some intimacy.  Eating healthy to live to see 100 years old is my goal, to hell with this virus....it's not in control, I am. Ancient cultures have studied and used herbs for 1000's of years, and the scientific data of their properties have also been documented.  Do your own investigation, read, be proactive in your quest for health.  We are susceptible to many other maladies now, and a healthy lifestyle will guard against many of them.  Don't settle for less and don't expect others to tell you, because they obviously ARE NOT. I switched Doctors for more dialog, he just sat there and looked at me puzzled and speechless. Wonderful......just wonderful.  I am so pissed, and I am yelling....do you hear me? Best of health to you.....Love Linda Note: I have several online resources for herbs, essential oils and healing information that I'd be happy to share with you. If you are interested, please email me at
strawberrydeguise@yahoo.com
.