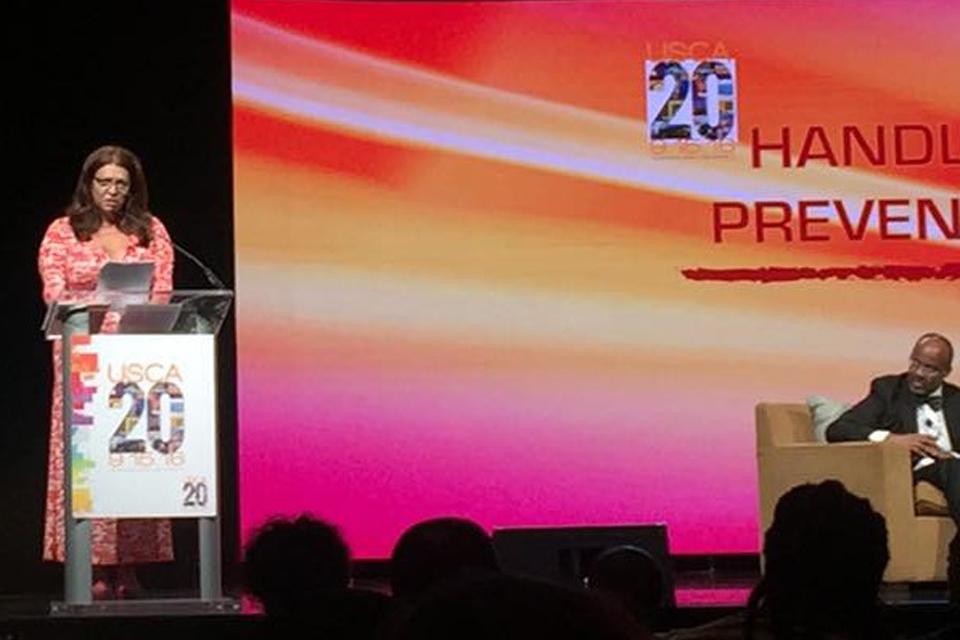 To read in Spanish, click here / Para leer en español, presione aquí
My name is Arianna Lint and I am the Executive Director of a local trans advocacy and service organization Arianna's center. I wear many hats: national board member of the Trans Latin@ Coalition, Trans United Fund, a member of Positively Trans, board member and blogger for The Well Project, Prevention Access campaign, and locally member of Latinos en Acción committee, and member for the local RYAN WHITE PLANNING COUNCIL Part A. Yes, I have been VERY busy and often with NO PAY.
I am a refugee immigrant from Peru, a former attorney and a former sex worker. Most importantly, I am a proud, transgender Latina living with HIV.
Thank you for inviting me to speak. Yet in the HIV community and even in this gathering, I feel like I am an invited, but unwelcome guest. In Spanish, "estoy invitando pero no es bienvenido."
I was asked to speak today about PrEP and the trans community. Before I do so…please allow me to offer some context. Since I have just a few moments to share about what our community faces, I hope I can leave my words in your hearts as we all make our way home.
You see, my home is my community and it is marked by violence, poverty and risk. And my community is also marked by resilience and untold stories.
My home is also Arianna's Center, an all-volunteer run, trans-led organization that supports and empowers the most marginalized. We don't have much funding. In fact, our support comes from poor trans people and two, trans-led organizations with revenues of less than $100,000. But to us at the Center, failure is not an option as that translates to lives lost. So, we make due, we find ways to continue our effort.
Just this year we have:
Facilitated 56 trans people who have a better chance of getting a job, of being safe day-to-day and living their authentic lives.
Connected 24 HIV+ trans women to care and kept them in care - knocking down barriers around fear, access and financial obstacles – women now have the chance to own their lives and to be more than just a diagnosis.
Moved 24 HIV- trans women engaged in survival sex work and three men who have sex with trans women connected to healthcare and prevention services including PrEP.
All week at USCA, I have heard how people are taking social determinants seriously as a crucial part of the solution to decrease risk, reduce incidences and increase access to care - nowhere is that more true than in the trans community.
Just this year we have gotten 9 trans women enrolled in education classes; helped 3 trans women transition out of situations in which their lives were threatened by violence and over twenty trainings to improve trans competence including the local county jail. I am not alone. Positive trans leaders--from Dee Dee Chamblee in Atlanta to Cecilia Chung in CA--to Aryah Lester who is leading incredible work in the black trans community in Miami. I am proud of the collective work of trans leaders. I am proud of our results. But I am haunted by those we did not reach and by those I will hold in my arms today but who will die tomorrow for lack of will and resources. But I am optimistic enough to believe that that if our allies – if each of you in this room - truly understood our struggle and what help looked like, we would no longer be alone.
In 2016, we live in a world where contracting HIV is completely preventable. In 2016, we live in a world where if you do contract HIV, it is a chronic but treatable disease, not a death sentence. Unless you are poor, unless you are a person of color, and especially unless you are a poor, transgender person of color. If you hold any of those identities, especially if you hold all of them, you do not survive in 2016. For us, it is 1980. For us, we are still watching our friends die. Friends like Sharmus Outlaw in DC and friends like Channing Celeste in CA and friends like many names you will never know but that we will carry.
For us we are full of grief, we are full of anger and for many of us we are full of fear. For us, PrEP is not accessible. For many of us, we do not have health insurance. If we have health insurance, we do not have access to trans competent providers. and even if we have health insurance and even if we have access to trans competent providers, our people are not included in sufficient clinical trials or in data collection generally so even our doctors at best don't know all the answers, don't know how to educate us, and at worst give us the wrong information. But most of us do not live in the best case scenario, most of are living without insurance, without resources and required to navigate - as best we can - a transphobic medical community. But we are fighting back and we have learned our lessons and like so many of you, we are acting up and we are fighting back.
Today I am asking for your help - not your charity - but your solidarity - just as trans people of color have stood on the front lines with you - from Stonewall to ACT Up to today - I am asking you to stand with us. I will close with six specific asks:
1. Pharmaceutical companies need to take greater responsibility and make stronger commitments to the transgender community at every stage - from research to access. For those of you that work at pharma companies or have influence within them then I ask you now to commit to including transgender people - trans women, trans men and non-binary people - in clinical trials and to begin an aggressive campaign to educate medical providers about what we do know in terms of both PrEP and treatment. I ask that you work with trans leaders - in communities - doing work and with a track record. You have many choices - a network of trans leaders from across the country, to Positively Trans, to the trans leaders that are here today and many more. If you're serious supporting the trans community and frankly if you're serious about a solution for everyone, make sure to invite transgender women of color to the table.
2. If you are a doctor, or a nurse or in any way a member of the medical community, please become educated. Please push pharma and others for the answers we need, please reach out to a local trans org and ask them to help you to become culturally competent and please, stop forcing people to lie to get access to PrEP.
3. Whatever your role is, as community members, make a commitment to truly get to know the trans community – not just the privileged few - but the rest of us. In your local community, show up and volunteer at a trans led, trans focused organization, as a human being.
4. As trans leaders - I love you - I support you - I am grateful for you. I only ask that you insist that you are treated with respect and that you give yourself as much love and compassion as you give to the world. Let us be kind to ourselves and to each other.
5. Finally, to organizational leaders, when you invite transgender women of color to speak or to host tracks or to 'make this a welcoming space' , consider compensating us for our time either directly or through an org donation or at least compensate our travel. Consider the difference that $1000 or even just $500 makes for a leader like me and the organization I represent. Keep in mind that even the leaders of this community are often living on the margins. Just last month, I was homeless for four weeks because my transphobic landlord discovered that I had allowed other homeless, transgender people to use my address for their name/gender change forms. He used that as an excuse to evict me. The only organization that stepped up to help me have the resources to find a safe place to stay, was a trans org called Trans United with an annual revenue 1/80th the size of org revenue. Throughout that ordeal, the work never stopped and I continued to manage a massive caseload. Investing in leaders is investing in our community. Show us you value our voices by including us but show us that you value our lives by supporting our work. We are learning together and today I hope for next year you will consider:
Create a transgender workgroup now instead of having one transgender woman in a workgroup. I implore you to make a commitment to meaningful involvement of the most impacted communities. And in this case, transgender women of color.
I ask that you make a real financial commitment to transgender programs.
I ask that you work through the next year to prioritize greater inclusion of transgender people at risk for and living with HIV and AIDS.
We have been organizing and mobilizing our community and we would love to be your partner to end this epidemic.
6. Finally, I extend an invitation to all those that are still marginalized - from black men who have sex with men - to sex workers - to the bi, pan, fluid and non-binary communities and disability communities and immigrant communities - let us get together and work together - for prevention, for treatment, for a cure and at the end of the day for respect and to make USCA and the HIV and AIDS community and the LGBTQ community and all the spaces that today we occupy as honored uninvited guests to instead make them a bigger home, truly for all of us.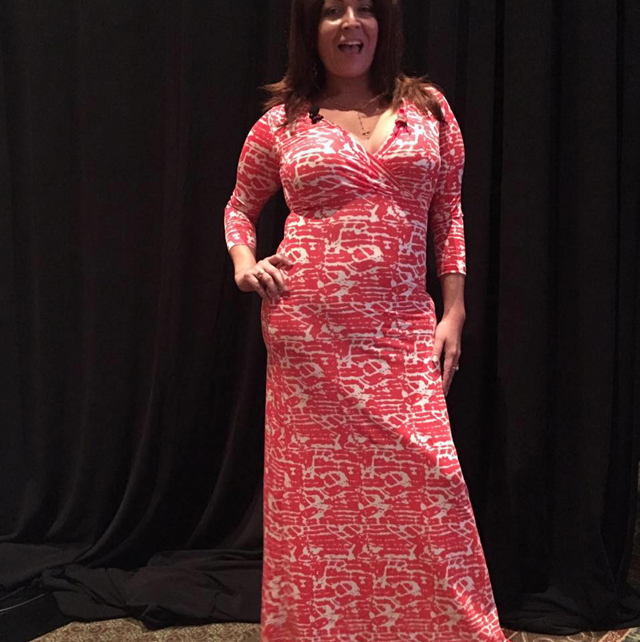 I share all of this with tremendous humility and respect. Please know I am grateful to be with you, and please know that you are always welcome in my home, Arianna's Center.
Thank you and safe travel!
---
Trans Community Statistics cheat sheet
Violence
More than 1,900 homicides against trans individuals have been reported in the past seven years alone.
Many of these documented cases have involved extreme aggression, torture, and mutilation.
Poverty
Ninety percent of trans people experience harassment or discrimination on the job. Almost fifty percent of trans people have been fired, not hired, or denied a promotion. Twenty percent of trans people have been refused a home or apartment. Twenty percent of trans people have experienced homelessness at some point in their lives.
HIV and AIDS
For trans community and HIV, it is still 1980. Trans women like me have very high rates of infection and very low rates of access to care. Many of us – transgender men and non-binary people – are completely invisible. Our great state of Florida was ranked #3 in terms of new diagnosed infections and right here in Miami-Dade and bordering Broward county were ranked number #1 and #2 in terms of new cases in Fl.