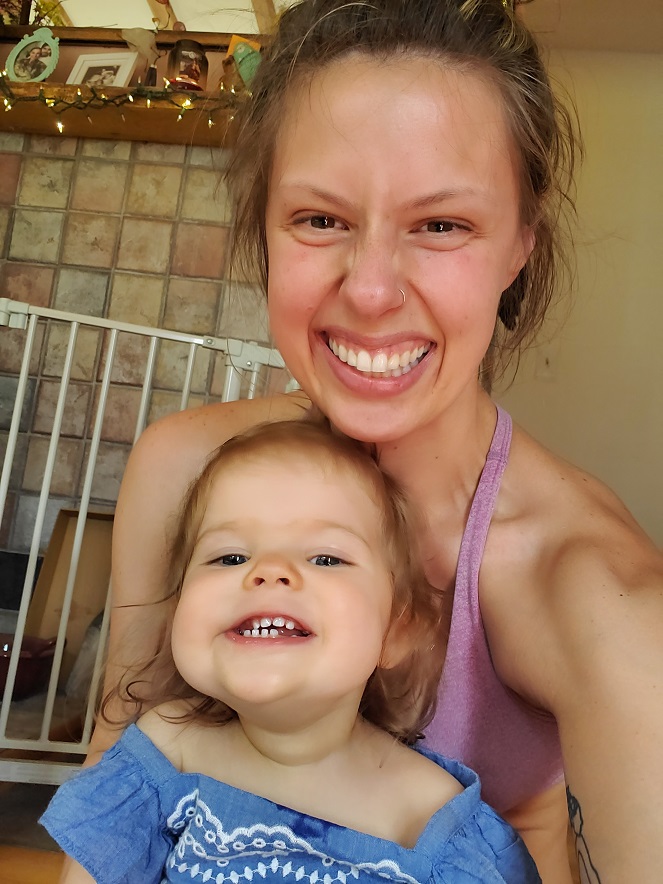 As a new member of A Girl Like Me, my intention of joining this group was to begin sharing the story of my HIV diagnosis, how I advocated for myself and my daughter during my first pregnancy, and how I'm advocating for my current pregnancy. I've trained in dance my entire life and graduated from The University of the Arts with a degree in modern dance. My early professional life began with myself teaching and performing dance in the Richmond area- I'll share some of that eventually.
I somehow ended up in Natural Bridge, VA with my husband, two cats, and a dog in 2018. Since then, I've given birth to my daughter, Aurora, and rescued a dog, Shyla. I eventually will get into the story behind my diagnosis and my life beforehand, but currently we are quarantined due to COVID-19 and my mind is so full of anxieties, I just need to "get it out". Whether or not others will read this, I'm not sure; maybe you all are having similar experiences and we can offer each other support, but for now I'm going to ramble.
I'm currently in between jobs. I was working as an in-home Applied Behavior Analysis clinician for children with autism, but was finding that most of my hours were spent working and not many were spent with my family. I wasn't really able to be present upon arriving home due to work stresses and actual at-home work that needed to be completed. That being said, I decided to end my current job to pursue other options that would benefit myself and my family on both the financial front, as well as give my mental health a break. Following this, I interviewed for a number of other jobs. Basically, I was hired for a new job right before the pandemic and my start date keeps being delayed due to the fact that I do not feel comfortable working outside of the home right now (my 15-month-old daughter is home from daycare and SURPRISE, I'm 13 weeks pregnant). I am now looking to pursue a career in HIV advocacy and activism and attempting to construct my own journey towards my goal.
With all of that being said, I am at home taking care of my daughter, my household, and my animals during this quarantine and trying to begin blogging- I ALSO FEEL LIKE I AM LOSING MY EVERLOVING MIND. Don't get me wrong- I have SO MUCH to be thankful for. I have a beautiful family, a curious and healthy daughter, loving animals, and my health. I have been undetectable since 2016 and Lord knows that is not the case for others... I know that and I acknowledge that. However, in the midst of soothing my daughter who has just slipped and fallen, correcting my rescue dog for attempting to walk on top of me while I am sitting down trying to soothe my daughter, cleaning my house (mess makes my anxiety so much worse and I am innately the messiest person I know... trying to create better habits currently) I feel like I am losing it. I am struggling to find an inner calm that will allow me to navigate through this in a more loving, peaceful, and albeit productive way, but damnit, I can't figure it out.
My husband works on his computer from home (9am-5pm) and following his workday, usually spends time gardening or working on building a fence we need for our rescue dog (to prevent her from running in the road), but it leaves me with NO HELP. Don't get me wrong... we need the fence. I currently can't just let the dogs out because they will run in the road, or run to a neighbor's house to pester their horses, so I have to go outside with a toddler attached to my hip who wants to get down and explore. I am filled with all of these anxieties and this stress-filled energy that leaves me feeling like I could fly through the roof or run full force through a window. I want to scream for help and it feels like there is none right now. I also am so tired and so sick with this current pregnancy most of the time and when 7pm rolls around (Aurora's bedtime), I often feel like I can't take another step without collapsing. I am struggling, y'all.
Simultaneously, I am filled with feelings of guilt. How dare I complain about spending time with my family while everyone in my home has their health? I should be cherishing all of the moments I have with my daughter while she is my only child. I shouldn't allow my stress and anxiety to dictate my life. I GET IT, but shit, I am having a hard time right now and I'm not sure how to fix it. I look forward to a day when I can leave the house without fear of catching COVID-19, losing my pregnancy, and spreading the sickness to my family. I know we all do. I just needed a moment to "get it out" and now my intention is to pick back up and give it my strength and positivity. I am thankful to be a part of this group and hope to share much more positivity in the future. However, this is where I'm at today. Thank you all for meeting me where I'm at.
Peace & love to you all,
Heather O