Charlie Sheen, Charlie Sheen,
OOOOHHHH CHARLIE SHEEN.....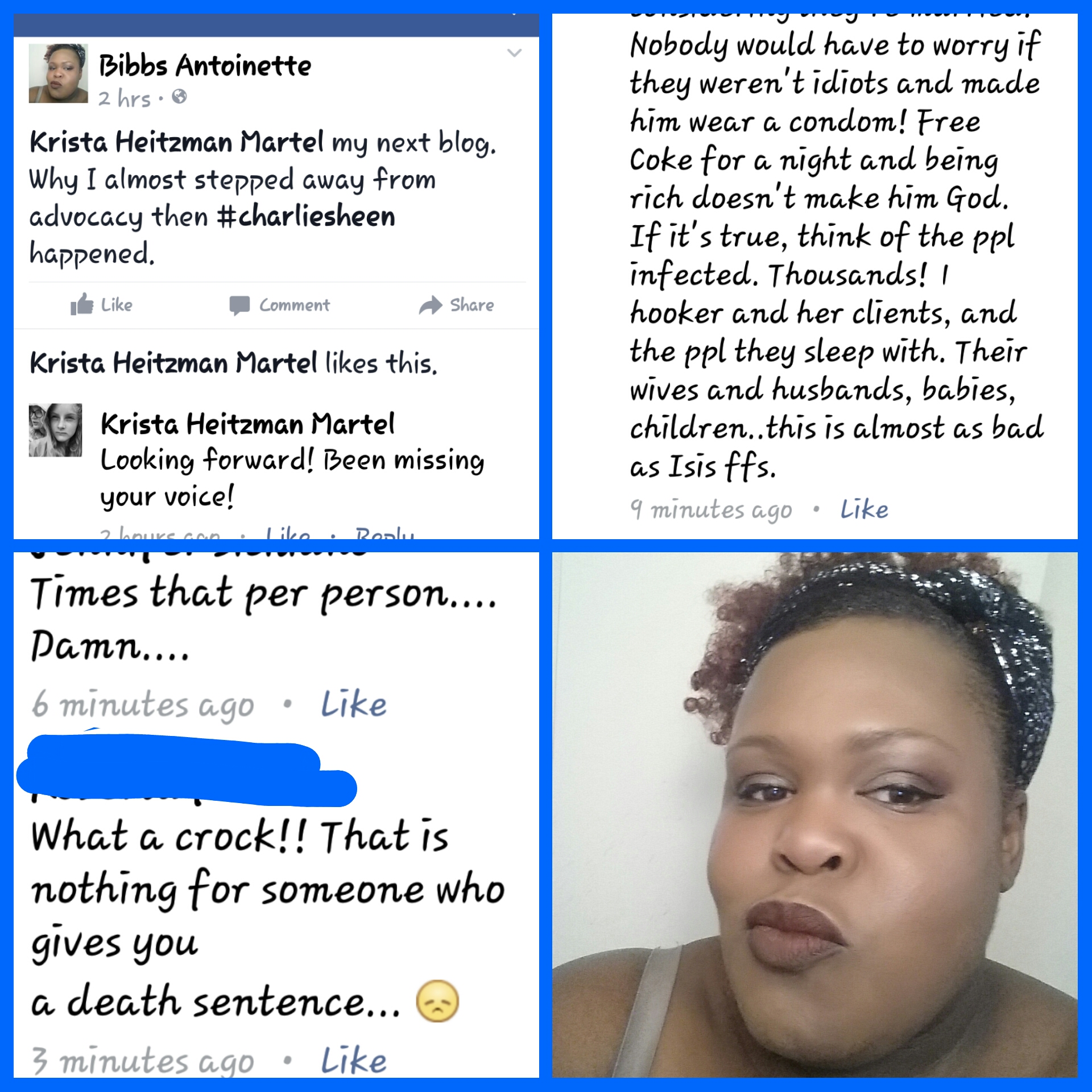 I had given up on being an advocate. I didn't want to travel. I didn't want to speak my truth to strangers. I didn't want to be involved with World AIDS Day 2015 or The National Week of Prayer for the Healing of AIDS. I wanted a normal life with balance. I wanted to focus on me being better for those around me. I wanted to mourn for my sweet baby Cristian. I wanted to be just Tabby with no labels. I didn't want to be an advocate, the girl with HIV, the boss, the activities coordinator, and so on. I wanted to deal with my depression, my feelings, and my battle with pill fatigue.
It was hard for me because I watched so many of the women I adore struggle this year with all that life requires of us as women and advocates. It seemed we all just wanted a break from the madness. Then Daraprim happened and EVERYBODY including the cats and dogs were utterly disgusted and said that we needed our "AIDS PILLS" - how dare they raise the price. My thought was, ok, you do know I have HIV. Also, I have never taken an AIDS pill. Stribild, Novir, Truvada, Atripla and most other ARV's are extremely costly too. Where is the indignant outrage about that? But whatever.
Then the media frenzy of Charlie Sheen happened. I ignored those first few days. Then the interview happened. Charlie, Charlie, oooohhhh Charlie. I loved the interview because he was honest and owned his crap. I hated the interview because he was honest and didn't own his crap. I found myself pissed at him because he talked about sex workers like he was better than them. They can't be that bad cause you hired them, but I digress. I really got pissed because he was forced to tell people his private business. Celebrity or not the way his medical privacy was violated is ridiculous. Then he talked about the reason he announced his status. EXTORTION. What the hell? Seriously. What is wrong with people? Then I was sad because I remembered that so many people get trapped in relationships because of extortion type tactics by those we trust. People with HIV get manipulated and misused because they are terrified of the stigma and backlash from the community - the same ones that were just appalled by the Daraprim fiasco. I swear this week has been an emotional rollercoaster.
Then came the ridiculous headlines and the comments. So many comments filled with hate and disgust for people with HIV. I know people say there are ones that are encouraging, but I have found almost entirely negative comments. It feels like 1000 negative comments to 1 encouraging comment. I found myself on threads responding to misinformed people. I was shocked that I received no negative responses to my honesty and openness. It literally shut folks down. I was brought to tears by a woman who inboxed me for being so open.
I began to wonder, where are all the people that advocate for those with HIV? How are we responding to those who are honestly just ignorant, hateful and/or just don't know? Where is the mainstream coverage of PLWHA trying to combat the stigma? I know people like Maria Mejia-Liang, Tami Haught, Josh Middleton, Aaron Laxton, Cecilia Chung, Tiommi Luckett and others were vocal, but the outcry from us seemed so quiet to me. We have to roar just as loud. We can't get caught up with speaking out on closed forums. We can't keep bouncing our thoughts and opinions off those that are affected by HIV. Then again it only really "matters" now because a famous person has it. It's like saying, forget about the other 49,999 people in 2011 and every year since then who have found out they are HIV positive.
The problem for me is that I can't. The thing that has compelled me most is that at some point I forgot the reason that I advocate. God reminded me it's for his glory not mine. It's to help another shy woman find her voice. For now, I can lend my voice to the cause for all of those who have witnessed the debacle of being Charlie Sheen HIV+ and just can't. I will always speak out for my brothers and sisters that bear the shame of living with HIV. I have to fight and give my infamous side eye to those that compare Charlie Sheen to ISIS. At some point my mission will be complete, the torch will be passed, I can retire from advocacy, and God will get ALL THE GLORY.
Tiede A Bibbs