This month Akira, my youngest son of 13 years old, and I travelled to Antwerp for a filmshoot for the 'Undetectable equals Untransmittable' (U=U) campaign in Belgium. Whilst in the train towards Antwerp I asked how he felt to be part of this campaign, since this was not his first time participating in campaigns related to HIV and AIDS. He was also part of the 'coming out of the closet' (HIV uit de kast) campaign, the short movie 'people from the HIV association', the Amsterdam 2018 AIDS Conference welcoming campaign, and now U=U. Akira's answer was; "Mom, I am proud to help out. I believe what we do is pretty cool! I hope we are bringing the message across to people so the new generation won't suffer a lot of HIV stigma anymore".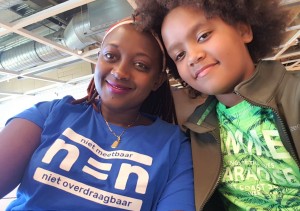 At that moment, I got a flashback of when I told him about my HIV status when he was 7 years old. I wanted to take this opportunity to proudly share this with you. Back then, Akira asked me "Mama, you have a lot of medicines. Are all of them for diabetes?" I said "No, they are for something else". Immediately I felt that he was ready for me to share the truth.
He asked "What do you mean for something else?" I was prepared! I knew he liked to watch TV cartoons with dragons, so I chose to use the dragon as a synonym for HIV. I said "Akira, mama has a virus. This one, it is like a dragon in my blood. He has been with me for many many years". Akira asked "Mama, does the dragon breathe fire?". "No, because I take medication everyday. The dragon is very weak now, the medication is putting out the fire. The dragon is asleep in a corner of my blood and he can no longer play to move and dance around in my blood".
Then Akira asked "How can someone get a dragon?" I answered "Through contact with blood of someone who also has a dragon and who is not taking medication. People have the dragon in their blood, but they do not know it because they did not yet test their blood for the dragon". He asked again, now really excited, "Wow mama, do I also have a dragon in my blood?" I said, "Good question! But you don't have a dragon, because when you were in my tummy I already took the medication every day to keep the dragon asleep, so that he could not touch you. You were born without the dragon! And now I am telling the world that my sleepy dragon does not harm me or anyone close to me! You can hug me, the dragon cannot touch you. He is sound asleep".
He asked again "So I don't have a dragon?" I affirmed. "But how do you feel inside? Does it hurt?" I replied that it does not hurt, but that I have to keep controlling the dragon with medication and sometimes medication can make me sick for a few days, but that afterwards I am fine again. He responded telling me "When you feel sick again, let me know, I will make you a cup of tea!" Then he gave me a hug and said "I love you mom, you are my super mama!"
After this conversation I felt relieved to see how well and easy he took this information. I guess that when you inform people with a positive mind, they will take it in a positive way and that there will be less chance of rejection. And if indeed you are being rejected, it is because they do not (yet) have an idea what you are talking about. Then, just try again and focus on a positive way to explain once more until people understand your message. This is how you will contribute to ending HIV stigma.
Raising the next generation of stigma fighters
Informing and empowering the next generation is our pathway to ending HIV stigma. If they are willing to speak up without fear, then the World will change. It is this generation that I hope will grow up to see their mothers, fathers, and any other person living with HIV to live without fear of being stigmatised. I am proud to be raising future ambassadors and stigma fighters, together we can change the World and the change starts with us.
So far I did not regret to disclose my HIV status to my son. I am actually enjoying doing activism with him. Dear parents living with HIV, I know that when it comes to stigma around HIV and AIDS, you do everything it takes to protect your children. I have done so for many years, yet at some stage I also realised that I had to go beyond that and that I also needed to retain their trust and share my HIV story. The day I shared my story helped me also to gain more confidence and freedom to share my HIV story with the rest of World. No more secrets! I am blessed to have them in my life and sharing the truth about my life with HIV was the best present I could give them in preparation for their future healthy life choices.
I am a proud HIV MOM.
Peace,
Eliane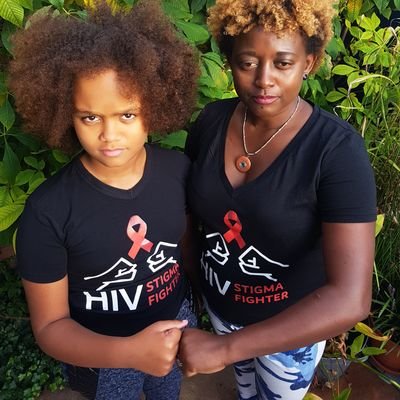 This blog was originally posted on hivstigmafighter.