A quick recap to catch those of you up who do not know my story. I diagnosed positive for HIV in 1996. I was 21 and began dating the man who became my husband when I was 19. That is not why I was on disability, living with HIV never made me sick because I was diagnosed at a time when meds were beginning to work, and I have been blessed and hardly had medical issues with HIV. Until my later age and now my body is showing wear and tear. And my stomach lining is messed up from the clinical trials at IUPUI I was part of in the late 90s that involved getting the dosage for AZT correct for use on women.
I was placed on full SSDI and SSI in 2010 from suffering carbon monoxide poisoning because my new husband installed my stove pipes incorrectly. I know, it seems like these husbands did not love me nearly as much as I may have thought, right?
Well, it has been nine years this year, and I officially went back to work full time in October 2019. How did I do that? That is a great story.
So, I woke up in Lutheran Hospital with no memory because of the fever, on oxygen because I also had double pneumonia, and I had 254 TCells – so, exactly 54 CD4 cells to keep me from getting that AIDS diagnosis that even though I have never had, some small-minded people still use when describing my HIV to each other when they gossip. The memory mostly all came back, I have some retention issues that I deal with, but I can walk, read again, write, and grasp objects that I only sometimes drop. And I have not been on full time oxygen since 2012.
During the next 3 years I began walking, first around my house and up and down the road by my house, until I could walk without oxygen. And then around town, and hiking on what was called "The Greenway" along River Road in my hometown to build up my lung capacity, and my friend, Wesley aka "Trail Ghost," took me to the Appalachian Trail for the first time to hike for real in 2012. I fell in love with it so much that over the next year I spent 8 out of 12 months hiking.
I started in Wyoming, living on a ranch and hiking around the big horn mountains. I also did some calving while I was there and happened to deliver the biggest bull of the season. He became hip locked and not only did we save him, we saved his mom, who was not able to walk or feed him for two days. I hand milked her and bottled fed the calf and we turned her every two hours with a fork truck. She hugged me with her head and body the day she was able to stand up on her own. I lost my favorite cashmere gloves that night. They were ruined, because, yes, I had to go in to pull him out.

Next, I went to Las Vegas for the first time and hiked my first 20 miles in the desert. It was amazing and I fell in love with this city and that is why I live here today.
After Las Vegas, we went to Joshua Tree National Park (JTNP) and stayed in Indian Cove for 5 weeks hiking around where the Colorado desert meets the Mohave desert. It was amazing, 29 Palms Marine Corp base is hotter than the devil's crotch, and I still say a prayer for those Marines out there hiking around JTNP every day. They thought my story was kinda, Oorah.
After that we went to San Diego, where I hiked the coast from Ocean Side to Hill Street in Point Loma. My last adventure was making it up Hill Street (nearly a 8% grade) to watch the sunset from the top of the hill. Then I took the Greyhound home in August 2012 and moved to Las Vegas in February of 2013.  

I began attending groups for people living with HIV and I was blogging at this time. I became a spokesperson for AFAN, a local ASO, for two years. Then I started volunteering at The Center in May 2017 on events, and then front desk and then as their Executive Assistant and was hired by Golden Rainbow to be their Executive Assistant in October of 2017. The Center offered me full time the following October 2018 because they were in between hiring a new ED and a new DO. This is when my SSDI was ended. During this time, I also became the 2019 Las Vegas Ambassador for the ACT Against AIDS Campaign. That has been an informative experience.  
When The Center filled those empty roles, my position was eliminated, and I was living on Unemployment Insurance. A fellow advocate who was starting their own CBO in another state reached out and asked for help setting up their office. I rarely turn down family in need, so I went. Get a contract my friends, because more than six weeks of my time was wasted, and I was not compensated for it.
I moved back home last month, where I have been looking for work, and the only reason I was not living in a homeless shelter was I have family and friends here who took me in.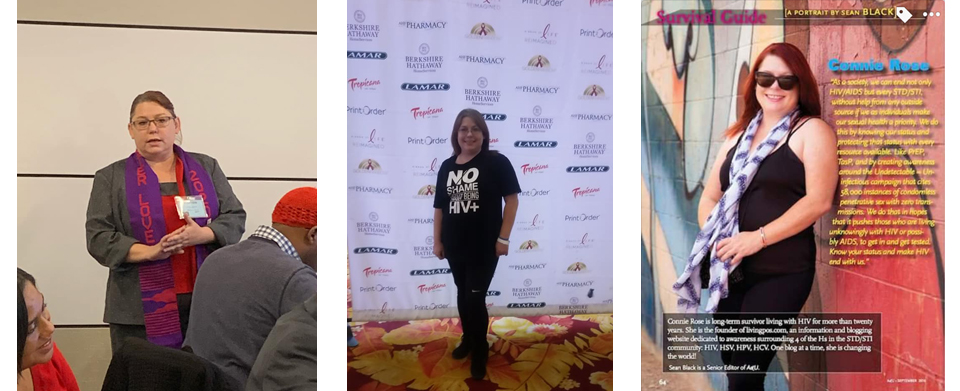 I finally found a job in my newest, most favorite place, Pahrump, NV. You know how you work your whole life to get out of that small town? Well, I couldn't be any happier to say that, as of September 1, 2019, I am gainfully employed again, as well as living in my own space with almost a half-acre lot for a yard for my Rufus Rue, and a hemp farm next door! In a very small community an hour Southwest of Las Vegas, NV. And the best news of all? I was selected from a pool of writers to be a paid guest writer for the next year on the online platform Life and Love with HIV.
Going off disability is not for everyone, but it is for me. Oh, and I have now hiked more than 6,000 miles. I am hoping to one day just take off in flight and never look back.
The sky is not the limit, it's only the view!