Print
Save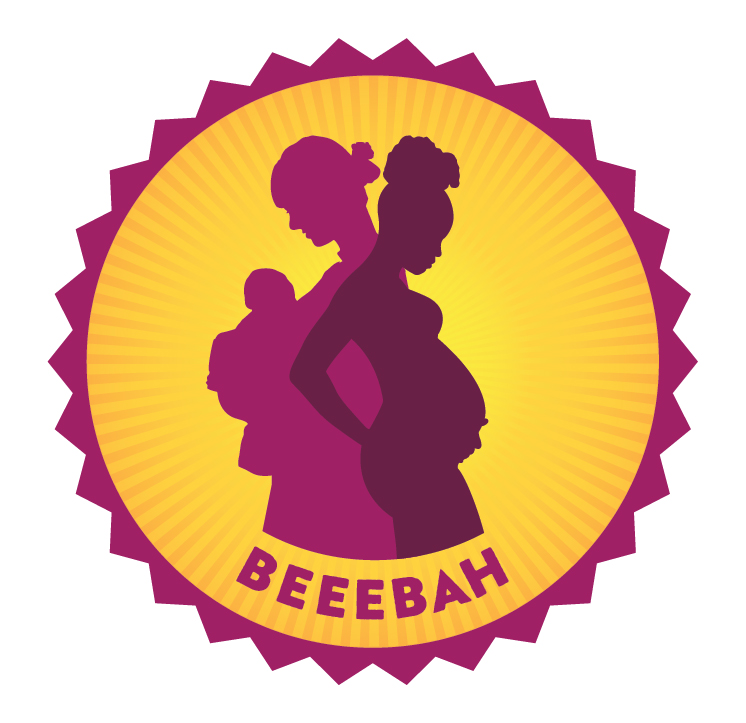 What's on This Page?
About BEEEBAH
Welcome to BEEEBAH (Building Equity, Ethics, and Education on Breastfeeding and HIV)! This comprehensive, multi-tiered project expands upon The Well Project's efforts to increase knowledge and expand access to information around breast/chestfeeding* and HIV. Through educational resource creation, leadership development, and collaborative efforts, BEEEBAH strives to ensure that women living with HIV can experience their fundamental right to make informed, supported, uncoerced infant-feeding decisions.
BEEEBAH addresses a number of key programmatic goals identified in 2020's Expert Consensus Statement on Breastfeeding* and HIV in the United States and Canada. Launched in December 2021, the program is part of our endeavors to address the lack of women-specific information and representation across all areas of HIV prevention, care, research, and policy.
View a compilation of all The Well Project's work on breast/chestfeeding and HIV since 2018
We add new content to this page regularly as programs are rolled out – so please check back often for new educational and multi-media programs that we hope you will share widely! If you are interested in joining the HIV and Infant feeding listserv for updates, please email The Well Project's editorial director Olivia Ford.
Breaking News
As a result of years of advocacy by women living with HIV, providers, and others – including The Well Project –  updates to the US Perinatal HIV Clinical Guidelines on January 31, 2023, assert the need for increased support from providers for parents' infant-feeding choices. The guideline updates state the likelihood of transmission if the birthing parent has an undetectable viral load and is taking HIV drugs (less than 1 percent); provide more detailed information on the potential benefits of breast/chestfeeding; and offer guidance for providers counseling birthing parents around their infant-feeding options.
Expert Conversations
Leadership Exchange LIVE: BEEEBAH Edition
Leadership Exchange LIVE: BEEEBAH Edition features live, interactive conversations between thoughtleaders on infant feeding and HIV exploring one another's work, activism, and personal experiences.
The fourth session featured Ciarra "Ci Ci" Covin (The Well Project) and Lealah Pollock, MD, MS (University of California, San Francisco). Watch this powerful discussion of recent updates to the Perinatal HIV Clinical Guidelines asserting the need for shared decision-making between providers and parents living with HIV and increased support from providers for parents' infant-feeding choices. This is big news!
The third session of our Leadership Exchange LIVE: BEEEBAH edition features Ciarra "Ci Ci" Covin (The Well Project) and Catherine Hanssens (The Center for HIV Law and Policy). Ci Ci relates her personal experiences as a woman living with HIV, new parent, and advocate; Catherine shares insights from her work as an attorney who has been active in HIV legal and policy issues since 1984.
For our second session of Leadership Exchange LIVE: BEEEBAH Edition, The Well Project's Ciarra "Ci Ci" Covin was joined by Marielle Gross, MD, MBE, an OB/GYN and bioethicist at the University of Pittsburgh and Johns Hopkins. Ci Ci and Marielle have shared a stage to talk about breast/chestfeeding and HIV before; the two reconnected to discuss race, maternal health, and ethics around infant feeding and HIV - including supporting parents living with HIV to engage in shared, informed infant feeding decision-making.
In the inaugural session of Leadership Exchange LIVE: BEEEBAH Edition, The Well Project's Ciarra "Ci Ci" Covin sat down with pediatric and adult infectious disease physician Allison Agwu, MD, ScM, of Johns Hopkins. Covin related her personal experiences as a woman living with HIV, new parent, and advocate; Agwu shared insights from her work caring for women living with HIV across the lifespan (from pediatrics to adults), including women who choose to breastfeed.
Watch on our Facebook page or via YouTube
Infographics and Educational Guides
Find out more about breast/chestfeeding and HIV, ways to discuss this option with healthcare providers, and stories from women living with HIV who have breastfed their babies.
Did You Know? Infographics
Click the images below to save and share as jpeg images
Projects with Our Partners
Copresented by The Well Project and the National Perinatal HIV Hotline, this annual roundtable geared for providers welcomed anyone with an interest in the topic to the 2022 event. The panel discussion featured medical and legal professionals engaged with supporting parents living with HIV in their infant-feeding journeys, in paired conversation with Black women advocates living with HIV who have navigated those journeys.
Breast/Chestfeeding and HIV in the US: A Listening Session with National Advocates
This webinar brought together women leaders from US-based organizations to provide updates about community-driven efforts underway to expand knowledge around breast/chestfeeding with HIV, promote provider support for parents living with HIV, change policies to reflect current evidence – and how others can get involved. Featured speakers included:
View the chat that took place during the session
Order Materials
Get key facts about breast/chestfeeding and HIV at your fingertips! From snapshots of the latest research and current guidelines to a direct link for support in talking with providers about infant feeding, this pocket-sized folding pamphlet packs vital information into an attractive, readable format. The pamphlet is a helpful resource to share at conferences and community events, in clinic waiting rooms – anywhere women and other potential parents living with HIV are served.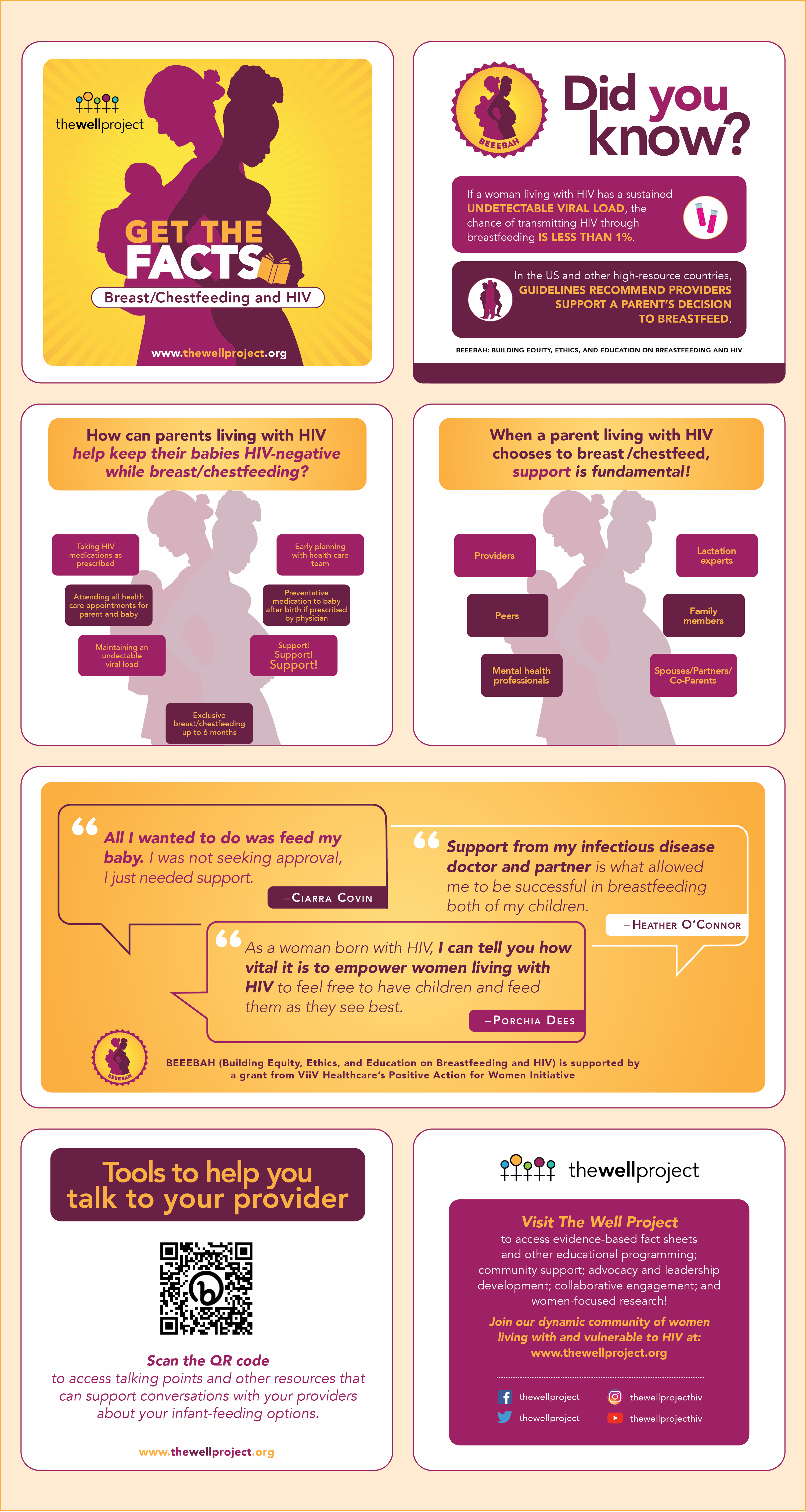 Click the image above to save as a jpeg or share online; or download a printable pdf of this resource
Fill out this form to have free copies of this pamphlet shipped to your organization or practice!
---
*The language we use around this work includes both "breastfeeding" and "breast/chestfeeding." While our organization focuses on cis and trans women living with HIV, we strive to include trans men, nonbinary individuals, and others living with HIV who wish to explore feeding a child from their body. We acknowledge that there are multiple terms to describe this process.
BEEEBAH has received initial grant funding from ViiV Healthcare's Positive Action for Women initiative.