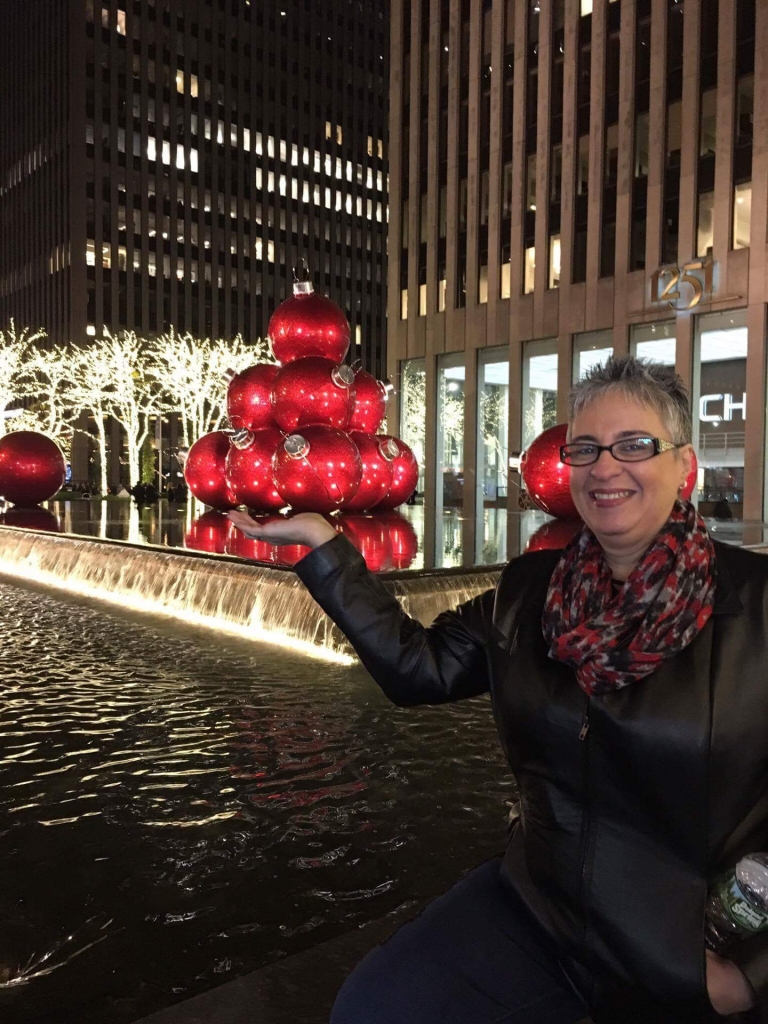 In 1990, I was training to be a medical technologist, responsible for everything from drawing blood samples and testing samples to preparing blood transfusions. I learned about HIV, methods of transmission and personal safety in dealing with any patient who could be a potential for infection. I thought I would be safe. 
By 1993, I was married to my high school sweetheart. We did not do drugs or engage in any high risk behaviors for transmission, never had a blood transfusion and had a healthy 18 month old son. We thought we were safe.
On 12/31/1993 I was called to draw blood from an IV drug user with AIDS. I did not pause for a second going in to draw her blood. She was another sick person waiting for treatment based on the blood sample and testing I was about to do. While the needle was in her arm, she became combative and jerked her arm. The needle went straight from her vein into my hand through the glove I was wearing. There was NO post exposure prophylaxis or PEP as exists today, it was just "hold your breath and pray you do not seroconvert". The thought in my head was "I am going to die from this and who will help raise my son?"
Tested for HIV, STD and drugs that night as baseline: All Negative...not a surprise.
Testing in February 1994: NEGATIVE... what a relief!
Testing in April 1994: POSITIVE screening and confirmatory testing: 2 positive, 3 indeterminate,  2 negative. I was actually IN THE PROCESS of seroconverting.
Testing July 1994: screen and confirmatory testing ALL positive.
I saw the results before speaking to the hospital Infectious Diseases doctor and felt my heart drop, drop, drop to my toes. The first Infectious Diseases doctor I spoke to was a total jerk. He said you have 7-10 years before it progresses to AIDS, then you'll get sick and die. Immediately my thoughts went to possible methods of suicide. I had seen patients in their last days with AIDS and did not want to die like that.
Looking at my 22 month old little boy I thought, let me talk to another doctor...
I found another I.D. doctor who was night and day different from the first. It was only '94, but he said there were meds due out in 1996 that would make HIV a chronic manageable disease. He gave me hope for a future at a time HIV WAS a death sentence. Most people were diagnosed years after infection but I was diagnosed VERY early at seroconversion He gave me the option to start meds, like the available evil AZT, right away and preserve my immune system until a cure or at least better meds came along. And so began the rollercoaster ride of HIV meds, side effects, resistance and allergic reactions. Every new med meant waiting for "the other shoe to drop" and waiting for problem side-effects to show. Now, 23 years into this battle I am still here and doing OK, never progressed to AIDS. Managing my virus by taking 1 pill once per day. 
In addition to a 24 yr old son, I was blessed with a beautiful daughter in 2000 who is now 16 and HIV negative, that I have raised mostly as a divorced mother. Turns out, the only casualty of HIV in my home was my marriage in 2004. Early days fears of infecting my husband made me push him away for his health and so our kids had at least one healthy parent. I am happy to say we are still friendly and have raised our two children as active parents along with his 2nd wife who I also consider a friend.
The battle has taken its toll. I have been "in the HIV closet" for 22 years. Growing up in a Latina home, the stigma attached to HIV was unbelievable. To this day, my father does not know my status. He believes ALL people with HIV need to be rounded up, put on an island and then bomb the island out of existance. I finally told my two children in 2015 and they have become my biggest supporters. World Aids Day 2016 was the first time I told my HIV status in public. Day to day I deal with neuropathy that never went away from early meds, daily fatigue and pain all over from chronic inflammation from HIV disease. Still today, each time bloodwork is drawn I feel some dread... waiting for the other shoe to drop and that my meds have stopped working. Happily it's been more than four years of good news, with cd4 counts holding and undetectable viral load. If only the HIV community knew in 1994 what we know now, how different my life may have turned out.
We now know: Not detectable = Not inflectious and taking meds keeps you healthy as well as keeping your loved ones protected too.
Long Term Survivors have shown: Live your life and enjoy it, our HIV is just a part of living.
I need to add a thank you to my boyfriend Paddy, who encouraged me to share my story. He came into my life November 2015. He passed away August 11th, 2016.
Why Xio wants to be part of A Girl Like Me: After being in "the HIV closet" for 21 years, never reaching out for support or telling people about my status, I read an interview of someone else living with HIV. Although our stories were markedly different, one sentence connected with me and set me free of the HIV closet. I wish to help someone else feel connected, understood and vital while living with HIV the way it was done for me.