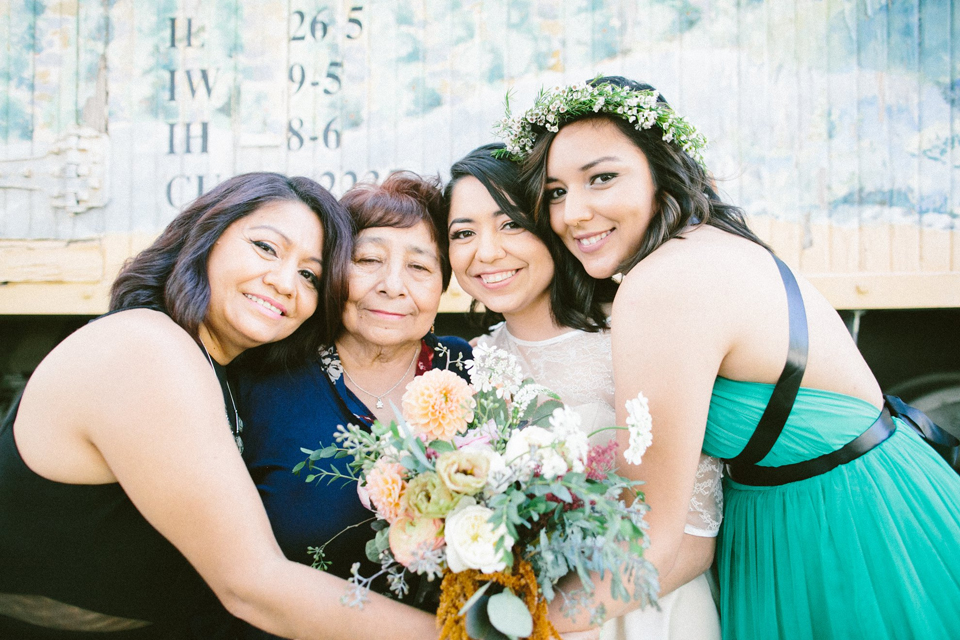 Para leer este blog en español, presione aquí.
I am the first deputy director for The Well Project and would like to take the opportunity to introduce myself. I identify as a Mexican mujer, immigrant, and a Southern California girl through and through. I am the mother of a 3-year old ray of sunshine, a loving and loved spouse, a sister, and an eldest daughter. I am also a lifelong survivor of HIV.
I acquired HIV in Mexico City, Mexico, through breastfeeding and have known my status since the age of 5, when I was diagnosed. My mom acquired HIV through blood transfusion before they tested the blood donation supply; we lived with HIV without knowing until my dad got ill and was the first in our family to be tested. Unfortunately, he was diagnosed when he was essentially on his deathbed, so he did not have a fighting chance. Shortly after my dad's death, my mom immigrated to Los Angeles, California, with my 2-month old sister and me in tow, since we had family here and she knew we could receive better access to HIV care in the United States.
My mom has always been an example of resilience, courage, and determination – in Mexican terms, a true chingona. When she migrated to the US in February of 1992, she arrived as a newly widowed new mother of two and a newly diagnosed 24-year-old young woman. Having been diagnosed with HIV herself a few months before, she knew she had to seek help and got herself in HIV care soon after arriving. My sister and I were both tested. Because my mom was diagnosed right before giving birth in Mexico, she was advised not to breastfeed and thankfully my sister tested negative. I however tested positive.
One of the most important things my mom did for me was telling me about my status when she found out, which is when I was 5 years old. She explained it to me in a way my 5-year-old brain could understand and did not make me fear my status. She said there was a virus in my blood and hers, like a little worm that wouldn't hurt me but that could make me feel sick. She explained that it was important for us to go to the doctor's office and take medication so they could make sure the little worm wasn't affecting our health. Because she took the care to explain this to me, without instilling any fear or stigma at such a young age, I grew up without knowing any limitations nor having any afflictions related to my HIV status.
Among our greatest sources of support was our large family. When we arrived to Los Angeles, we came to live with my grandma, godfather, three aunts, three uncles, and three cousins, for a total of 14 of us living all in a three-bedroom house. At a time where there was very little information about HIV – and a lot of the information available was quite scary – they didn't bat an eye at supporting us. The unconditional love came from the teachings of my grandmother, mi mamá Lala, who taught us all the value and importance of having a tight family through the good times and the bad.
They did not make us use a different bathroom or different dishes. My uncle accompanied my mom to her and my first HIV appointments. If my mom or I was in the hospital, we had family to spend the night in the hospital with us and to take care of my little sister. As my younger aunts and uncles learned English, they helped translate and interpret medical information for my mom because reliable resources were not readily available in Spanish. My big Mexican family was a source of strength for my mom, my sister, and me as we navigated our HIV journey – they provided a nurturing and supportive space for us while we made sense of and adjusted to what living with HIV would be like.
Fast forward to the impact of a second pandemic we had to face. COVID-19 affected my large family both in Los Angeles and in México. We lost two elders to COVID, including my grandmother, the matriarch and heart of my family. Part of my grief process included the anger I felt at their unnecessary deaths. While it was widely known that older adults were the most vulnerable, the people around my grandma and her brother did not take sufficient precautions to keep them safe.
I'm not angry at my family members who got COVID; I'm angry at the disinformation targeted to the Latinx community that got them believing that masks and social distancing did not work or that vaccines were dangerous or inefficacious. Disinformation in the Latinx community about COVID, HIV, and politics is not our fault. It is a systemic and intentional attack. The lack of sufficient, reliable, and unbiased information means that myths and intentional disinformation go unchecked, continue to spread, and negatively affect our community.
Similarly, the Latinx community is often an afterthought when it comes to HIV – from representation in campaigns, to service eligibility for the undocumented, to language accessibility for those who do not speak English. This contributes to a lack of progress in reducing HIV rates among the Latinx community. There is an urgent need for language justice in HIV care, services, and community organizations.
Language justice, as defined especially clearly by the American Bar Association:
"... is an evolving framework based on the notion of respecting every individual's fundamental language rights—to be able to communicate, understand, and be understood in the language in which they prefer and feel most articulate and powerful. Rejecting the notion of the supremacy of one language, [the language justice framework] recognizes that language can be a tool of oppression, and as well as an important part of exercising autonomy and of advancing racial and social justice."
Joining The Well Project as the only Latina on the staff team, I was glad to see the ways in which the organization had already been taking action to increase the access of reputable information in Spanish by translating our fact sheets. This year, The Well Project is doubling down on the commitment to language justice by launching a monthly newsletter in Spanish to ensure there is wide dissemination of any Spanish language offerings – including fact sheets and entries from our Spanish blog, Una Chica Como Yo – and making sure that educational materials are translated to Spanish. Timely access to information is essential; therefore, we will be aiming to release fact sheets and educational materials in both languages simultaneously so that there is no lag in access for Spanish-speaking communities who don't speak English.
This is just the beginning, and it is a great start. I hope you will support in increasing access to reliable information within the Latinx community by sharing our resources and speaking up on the need for Spanish language content to be a priority – not an afterthought.
Grissel Granados,
Deputy Director, The Well Project